Posted by:
Ryan
Abstract as they are, there is definitely still some debate as to the symbolic meaning of the first three BIT.TRIP games. Some speculate that CommanderVideo is born in
BIT.TRIP BEAT
, while others argue that he is first born in
BIT.TRIP RUNNER
, but I think that it's fair to say that the first three games are from an "internal" perspective, whether that means his formation of self or just the synapses firing in his brain.
BIT.TRIP RUNNER
, on the other hand, is the first time we get to see CommanderVideo and his interaction with the world from an external point of view.
BIT.TRIP RUNNER
starts with CommanderVideo running at top speed along a strange, wonderful new planet. That early stage of the game embodies the naivety of arriving in a new place, like the first day of college or the first day at a new job, where everything is cool and new and the possibilities are endless. The core gameplay shares that same optimistic feel: if you trip up, you start from the beginning again without missing a beat. It's like one of those rare nights when you get a flow of inspiration and your mind just keep going and going without stopping.
"This game is about taking life by storm and not taking 'no' for an answer."
— Alex Neuse on BIT.TRIP RUNNER
But unfortunately, if I were to predict what's coming in
BIT.TRIP FATE
, the next logical stage after being new to the world and feeling unstoppable, is eventually finding out that there
are
limitations. If this is CommanderVideo's first journey into the external world, then I think
BIT.TRIP FATE
will be his first experience dealing with the boundaries of his new world, learning to deal with frustration and unfulfillment, and maybe being unable to stop bad things from happening.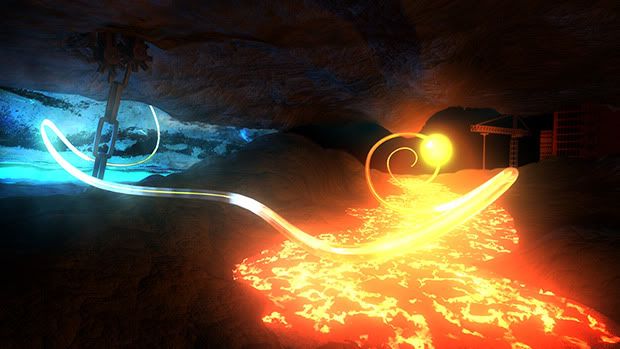 The core of this teaser image is the juxtaposition of ice and lava, and taken as life symbols, these could be symbolic of the contrast between depression and anger/mania. But also in the image is a chain burrowing through the ice, while the lava shows a construction site, possibly a factory or a forge. Although the extreme heat and extreme cold are completely natural in both the external world and the emotional world, it's unsurprising to see a strong effort by humans (I AM ONLY A MAN) to control both.
"You are going to experience a side of CommanderVideo that you haven't seen before, and it might be a little scary. It might be a little weird."
— Alex Neuse on BIT.TRIP FATE
And most interestingly of all, CommanderVideo is going to have friends: lots of friends. That's the part I'm most interested to see. How does that kind of darker emotion play off of his new comrades? Does one of them get hurt or kidnapped? (Your princess is in another castle.) Will he be the one to hurt or betray them? Will the ice level be completely in Nether Mode (depression), while the lava level is sparking off of Extra Mode (mania) the entire time?
There are definitely still plenty of questions to be answered.
All right Gaijin Games, I've made my first guess and showed my hand. It's your move. Show me something. I'll be at the Destructoid LIVE panel this Saturday during PAX. Be there. :P
Edit:
We've got a
debut trailer
for
BIT.TRIP FATE
! And a soundtrack as well!
Here are some of the little nuances I've noticed:
+
The titles of the levels are "Patience," "Frustration," and "Anger."
+
CommanderVideo's chest has a CORE that fades in and out like a heartbeat, and it can fade to grey.
+
The top-right corner of the soundtrack depicts CommanderVideo with an evil, glowing red eye.
+
CommanderVideo is entirely on rails, and cannot deviate from his path (as far as we know).
+
His friends are used as power-ups. Not too sure what this means.
.
.
.