So, one of things I do to distract myself is to mess around with Photoshop, or video editing. As I've
shown before
, my favorite type of art to play with are sprites and animated gifs. I have no natural artistic talent or training (I'm absolutely terrible at drawing and painting), but working with sprites is a lot simpler, since it usually involves working pixel-by-pixel, and there's a lot of templates to build on. When Paul Robertson, the lead animator of the
Scott Pilgrim Vs. The World
game,
released several of the character sprites he designed
, I quickly went to work playing around with them, and seeing what I could make using the animated sprites as templates.
My first attempt was to modify the
basic Scott sprite
into an avatar of myself.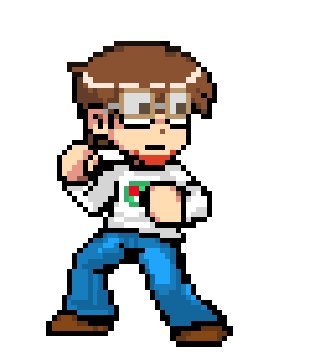 Most of it was fairly simple, involving recoloring the clothing and hair, changing the short-sleeved shirt into a long one, and adding the small beard. The hardest part was adding the glasses. I pretty much had to replace the eyes altogether, and the glasses "bounce" (which I'll admit didn't work as well as intended) was difficult to sync between each frame. It's not really my ideal result, but it works for the time being. I might go back and change it later.
Did you notice that little Destructoid head on my shirt? Since the amount of pixels in the sprite are quite small, my flexibility for making shapes was limited. However, that gave me the idea to do...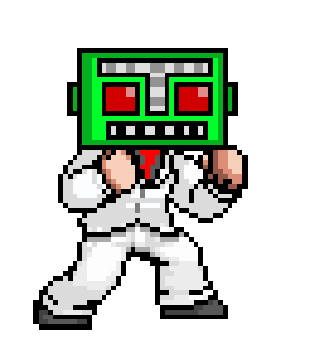 MR. DESTRUCTOID!!!
This is a modification of the
Stephen Stills idle sprite
, and is a much more substantial edit. Obviously, the head was completely replaced by the Destructoid helmet, which I drew from scratch. To add a bit of life to the face (since it doesn't move like a human one), I made the eyes flash. In addition to recoloring the clothing to match the classic Mr. Destructoid suit, I had to make some major changes in the neck (adding the tie and lapels) and the waist (changing from a tucked shirt to a loose jacket). Overall, though, I think the final product worked out well despite the limitations of the small pixel size.
Just figured I'd put these up here before I go to PAX, and see what people think.
(P.S. For anyone wondering about my Video Game Mind Teasers contest, I'll probably contact the winners in the next few days. However I won't post the results/answers until next week, due to PAX.)
[i](P.P.S. The animated background from the header image comes from
this post from St�phane Boutin
, who also did art for the game)[/i
---
LOOK WHO CAME:
Guncannon
Hamza CTZ Aziz 1
Sentry 1
Nic128 1
Alpha Beta Squid 1
Jack Maverick 1
SuperDance 1
Ekas 1
Mark Griffiths 1
Manic Maverick 1
LawofThermalDynamics 1
Fame Designer 1
knutaf 1
Micorku 1
Uber Mashu 1
falinter 1
Crunshii 1
Kevin McClusky 1
DarkTravesty 1
Y0j1mb0 1
Jonathan Holmes 1
Antwhan 1
mourning orange 1
ShuperShawn 1
Kraid 1
ProperlyParanoid 1