Awesome drawing of me by Jack Maverick!
Hi! My name is Ashley. I like video games, and to write and draw. Sometimes I combine the three. I have a huge knowledge of video game trivia and pop culture trivia in general, and I like to overanalyze things both for fun and for your entertainment.
I also like ducks and koala cookies.
My favorite game genres are puzzles, platformers, and scrolling shooters. I also really enjoy Mario Kart. But I don't like to limit myself, so I'll give anything a go at least once.
Even though my first console was an NES, I grew up mostly on the Genesis. Much of my childhood was spent playing Sonic 2 multiplayer by myself. I would switch the controller after every round and play both characters evenly so that it would always end in a tie.
I am a little shy, so you may have to prod me, but I would love to be your newest friend!
E-mail:
stripedbird at gmail dot com
Gtalk:
stripedbird at gmail dot com
AIM:
odd looking bird
Xbox Live:
Horned Child (currently offline)
DeviantArt:
CLICK
Facebook:
CLICK
Twitter:
CLICK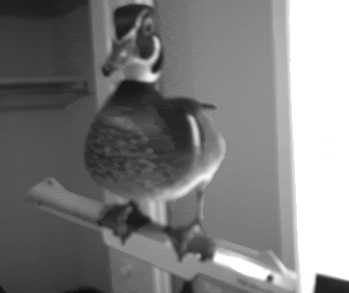 Also, ducks
- Duck is now living with a zookeeper in Alabama who can supply him with a bigger swimming area than a bathtub. He is in a better place, free of Zappers and laughing dogs.