Posted by:
Ryan
Sonic Colors
has an official release date (November 16) and SEGA looks like they might get this one right. They're essentially making
Sonic Unleashed
again, but they're focusing on only Sonic and the action-levels this time. (Although the
pre-order bonus
continues to feed into the belief that all SEGA fans are furries, which makes me sad. Seriously SEGA, why can't I just get a
Wisp
plushie or something that I can put on my desk?)
So to celebrate, let's go through what I'd realistically like to see in a modern-day Sonic the Hedgehog game. Then when the game comes out, I can compare this list to what they've done in the actual game. And you guys seem to like this whole "how-to" format I've been using anyway. I'll try to be as specific as I can just in case anyone from SEGA happens to read this. (Seriously though, if you know someone who can get this in SEGA's hands, I would be honored to have them read my obvious, unoriginal suggestions.)
As far as I understand, the reason Sonic Team has been too afraid to release a game with just Sonic until now is due to gameplay length. They argued that Sonic Unleashed would be only a 3-hour game without any of the Werehog sections, which is probably true, and there are some legitimate reasons for that. So to make a full-length Sonic-only game like
Sonic Colors
, you'll probably need to:
Reuse Your Level Art
Since Sonic games move through the environment more quickly than most other platform games, they require longer stages, which means each stage needs more art assets to be made per individual stage. Sonic levels have a decently large number and assets, but the old-school Act 1/2 structure of those games allowed these level assets to be re-used to create multiple levels, and to make a decently long Sonic game, this form of asset-reuse is probably a necessity. A Sonic stage probably needs three or four acts, each reusing assets from the last, to make a Sonic-only game feasible.
Sonic Colors
is coming exclusively to Wii and DS this time, which is a step in the right direction. The game will obviously have lower-poly models and environments than a high-definition game would, so it'll be less of a strain on the art team to make more levels, and it won't need the 100 computers and the 2-3 day wait to calculate a stage's pre-rendered lighting like a Hedgehog Engine game does.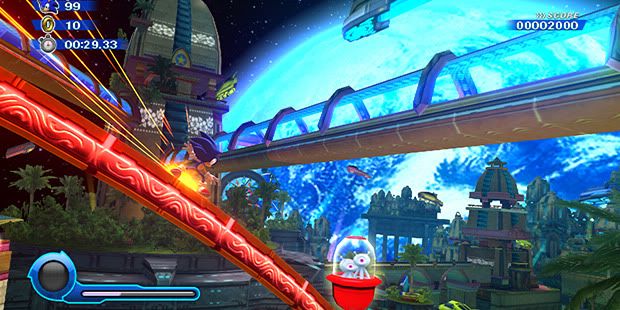 But even with reused art assets and less polygons, a proper Sonic-only game will probably still struggle to reach the 6-hour mark. Now let's be honest: there are plenty of high-profile games with main campaigns that are only 6-hours long (not naming names), but those games usually make up for it with online multiplayer modes that people can replay over and over.
Replay is Your Strong Suit
And this is the point I want to hammer home. This is where a modern-day Sonic game needs to shine more than anywhere else. If a proper Sonic-only game is destined to be a short experience, it necessitates replay value. No Sonic game should ever be released without several hooks for replay. And so we'll start with:
Unlockable Modes
Beating the main game must unlock at least one thing on the main menu screen if you want normal people to replay your game. And whatever extra mode you add should be as low-resistance as humanly possible. Personally, I would highly recommend that the game have some kind of "Level Rush" mode where the player can play through every stage in the game back-to-back without any breaks or interruptions. I realize that loading times are necessary for each stage, so an
OutRun
-style transition between levels would definitely be acceptable. If after beating Sonic Unleashed, I could just select an option from the main menu to play all the daytime stages in a row, I'd fire that mode up all the time.
And if the player beats that mode, then give them a shuffle mode: same thing, but they play through the levels in a random order instead.
Multiple Paths and Online Leaderboards
A Sonic game needs online leaderboards that show you your place, and more specifically, how far you are from your nearest friend on the leaderboard in a kind of
Geometry Wars
style. I don't need to know that I'm 200-millionth in world as much as I need to know that I'm only 2 seconds away from beating my best friend's time. But of course, to create a wide gulf in times, the stages need lots of places where times can vary. Players need to be able to shave off seconds by rounding corners, they need to be able to get much faster times by taking more difficult paths, and the game should reward you with more boost for playing well. Maybe using boost can cost rings: no rings means no boost, so collecting more rings would net faster times. Not necessary; just an idea.
Sonic Unleashed
already gave us a Sonic that can drift like a racecar and boost, which is reminiscent of nitro from racing games, so competing with your friends for track times shouldn't be a large leap of logic.
Achievements and Customization
Now I don't specifically mean Xbox Achievements, but even
Mega Man 9
has a list of faux achievements that the player can do to get a little golden crown. If the game is already keeping track of player stats (which I believe most games do nowadays), then little achievements would be pretty easy to implement, and would greatly help replayability.
(Does anyone happen to know an image upload service that's not as weirdly puritanical as Photobucket?)
But with a little more effort, you could take this even further, and give us useless, aesthetic junk for completing Achievement-style challenges too. Kids love useless, aesthetic junk. Heck, I would probably love an extraneous accessory system tied to some in-game challenges. Maybe if I beat a mission under a certain amount of time, the game could give me a top hat and a monocle. I'd beat a really hard mission to see Sonic run through a level wearing a top hat and a monocle. Or maybe I could get Sonic with a rose in his mouth. That might sound a bit silly, but stop and really think it through.
How about this: Imagine if the prize for getting an S-rank on every mission was the ability to play as black-eyed, pot-bellied Sonic. That would be an insane unlockable for all the retro Sonic fanboys, at the development cost of swapping out a character model. Tell me that's not a great hook for replay.
Or you could unlock a Mecha Sonic or Shadow skin. I'd totally beat a tough challenge to play as Mecha Sonic, and then I could put a top hat and monocle on my Mecha Sonic too.
Local Multiplayer
(
Edit:
Local multiplayer
confirmed?
)
It's easy to forget local multiplayer since most self-proclaimed "hardcore gamers" have Xbox Live accounts, but don't forget that Sonic is still targeted at the younger crowd. My sister and I played Sonic together when we were in elementary school, and I haven't forgotten how important it is for kids to have games with local multiplayer.
Sonic 2
's special stages are difficult to beat without a second player, which encourages co-op, and
Sonic Adventure 2
did versus play in 3D several years ago.
Sonic Adventure 2
's Radical Highway stage in particular felt like it was designed as a two-player stage, but was used with no environmental modifications for both single-player and multi-player play. I'm not saying that every stage should be designed for multiplayer, but at the very minimum, two players should be able play against each other in a race for time and see ghosts of each other on the track.
Of course, online multiplayer is a "nice to have," but I'm pretty confident that the additional burden of multiplayer netcode simply wouldn't be worth the trouble.
Fun Level Design
And of course, if a level is good enough, we'll probably replay it again just for fun.
Sonic Unleashed
on Wii had pretty good daytime levels, so SEGA (and Dimps), just keep doing what you're doing and you'll be all right. I can say that I've played the Wii Shamar stage many, many times, just because I really love it.
But even with great levels, you should still try to give us that little push; that extra incentive to play the game again. With some challenges, a low-resistance pick-up-and-keep-playing mode, some collectibles that show up in-game, and leaderboards, maybe—just maybe—reviewers won't slam the game for being too short, and players will be glad to run through the same levels over and over again, just like we did back in the Genesis days.
.
.
.
---
LOOK WHO CAME:
LK4O4
LK4O4 1
knutaf 1
MattJay 1