As I mentioned before, the format now will be two types of puzzles a week. For the first time, there won't be a music puzzle (saving me the time of making a video and putting it on YouTube), but instead there's a messed-up collage, and wordplay-based Gamebusters to try and figure out.
PUZZLE #1: Image
It's been a pretty hot summer so far, so I figured I'd give this week's image a beach theme, since apparently that's a place people like to go to during hot weather. There's five different games in this collage, all involving a beach environment or level. All you have to do is name the game. Shouldn't be too hard...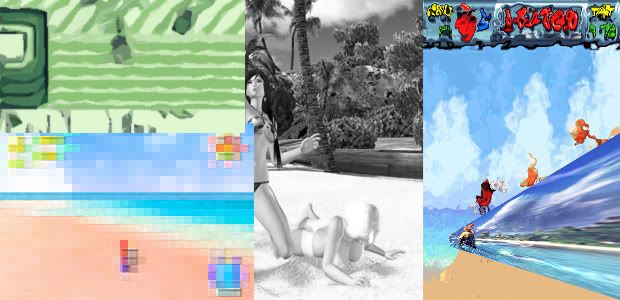 PUZZLE #2: Gamebusters
"Gamebusters", based on
Karl Pilkington's Rockbusters quiz
, involves a series of cryptic/confusing phrases that have a double meaning as the name of a video game title, character, concept or item. For example, if the clue is "This furry animal doesn't like to listen to the Rolling Stones quietly", the answer is: Fox Mick Loud = Fox McCloud. They might be confusing like that, so use your imagination.
#1)
"This early computer operating system is very happy." (Boss, Initial is G)
#2)
"An Atari handheld has some Dodge Caravans." (Character, Starting Initial is A)
#3)
"This British national beverage is good for relaxation as well." (Game, Starting Initial is T)
#4)
What's the common link between those three clues?
Overall rules for this week's puzzles:
1. For the first few days, each person can only give four answers total. After Monday, you can go back and answer as many remaining ones as you want.
Good Luck!
---
LOOK WHO CAME:
Guncannon
Batthink 1
Kraid 1
odber 1
FalconReaper 1
JLFrelder 1
Mayiplay 1