To spice things up, and to make up for missing last week, there are going to be multiple types of puzzles this week. As well, I'm going to be trying out some new, non-music related types to give those of you who are more analytical or visual-oriented to have a chance.
PUZZLE #1
First off, there's the Multipass puzzle, where 6 different songs are played simultaneously. However, you might notice that I've shifted some of the songs to the right and left channels, so if you have stereo speakers or headphones, things might be a bit easier. As well, 5 of the songs are from well-known NES titles, while one of them is an 8-bit remix of
a well-known anime theme.
PUZZLE #2
Now, here's the second type of puzzle for this week. In this image are deformed screenshots from 5 different games, spanning every console generation from the NES to the present. Only a few are obscure, since I'm not sure how difficult it'll be for people.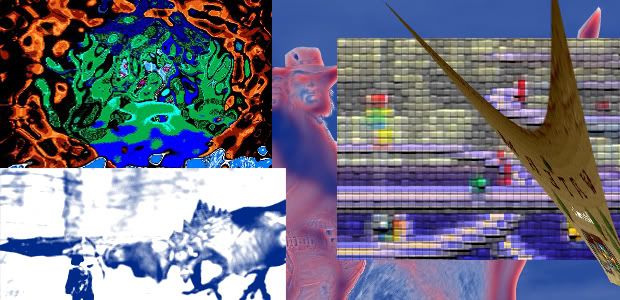 PUZZLE #3
The final type of puzzle is going to be wordplay. I'm tentatively calling it "Gamebusters", since it's based on the hilarious quiz segment "Rockbusters" that Karl Pilkington did on the Ricky Gervais radio show and podcasts (
here's an example
). There'll be a cryptic clue, where the phrase refers to a video game title, character, concept or item. For example, if the clue is "This furry animal doesn't like to listen to the Rolling Stones quietly", the answer is: Fox Mick Loud = Fox McCloud. Yeah, they might be confusing like that. Let's see how it turns out.
#1)
"The black bird won't shoot his gun." (Game, Starting initial is C)
#2)
"That payment belongs to you." (Character, Initial is Y)
#3)
"Chomping some uncooked meat." (Enemy, Initial is R)
#4)
What's the common link between those three answers?
Overall rules for the puzzles:
1. For the first few days, each person can only give four answers total. After Monday, you can go back and answer as many remaining ones as you want.
2. If someone answers a question, and you think that you have a more precise answer (the specific version of the game, or the specific level where you hear the music), you can try and "steal" that answer, and it won't count towards your four answer limit.
3. Please don't reverse the edits/alterations on the songs/images to try and solve them. That's cheating.
Good Luck!
---
LOOK WHO CAME:
Guncannon