Alright, a bit of a change of pace this week. I'm going to let you (i.e., whoever actually shows up) pick the movie! Well, in as much as you have three films to choose from.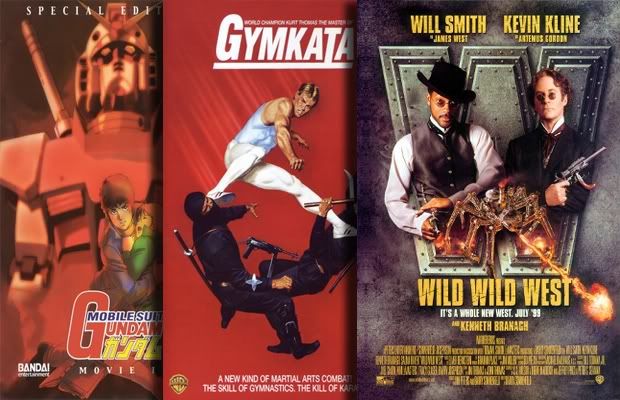 First, there's
Wild Wild West
, which is definitely the best Kenneth-Branagh-riding-a-giant-mechanical-spider film ever made.
The second choice is
Gymkata
, which is the only gymnastics-karate film ever made. Ever wanted to see how many ways you can have gymnastics equipment show up in the middle of a fight scene?
Finally, as required for my love of the series, there's the first
Mobile Suit Gundam
movie. The twist is that it's going to be the relatively rare English dub, with some weird accents on the characters. Oh, and they all pronounce Gundam "GunDAMN", which is hilarious every time.
For the preshow, I've got some Reboot, Sailor Moon, and Sonic The Animated Series for your enjoyment.
Preshow starts around 6 PST/9 PM EST, and the movie starts at 8 PM PST/11 PM EST!
Go to www.livestream.com/guncannontv to watch the video at full size.
---
LOOK WHO CAME:
Guncannon
Kraid 1