I am incredibly hungry, with no food to actually eat. I want to make an entry that's actually about video games. So here: have a blog about food in video games. Someone please feed me. FOOD.
Food in video games is a pretty weird subject. You'd expect that if your protagonist is human, he or she would need to eat. Of course, this would generally ruin the flow of the game, as you don't generally want to spend a significant portion of your gaming experience performing menial tasks. Well, unless you're playing The Sims, I guess. Of course, the one time I ever played The Sims, my guy started a fire trying to cook dinner and he died. True story.
You may get that one token scene in a more story-driven game where the character/party goes to town on food (I'd come up with an example but I am
just so hungry
), or maybe some sort of mini-game to cook a meal (Final Fantasy IX comes to mind). Or maybe, food is there, but it's something you only use when you need some extra health or something.
There's also that stupid pizza. That evil, friendship-ruining pizza. The pizza so devious, it will almost always cause a fight. Don't know what I'm talking about? Maybe I can jog your memory.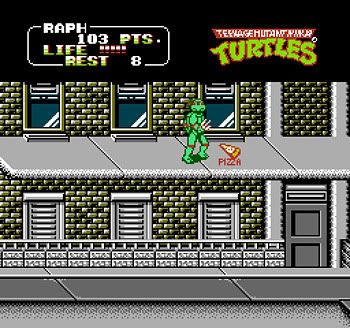 That
filthy
pizza. That game is hard enough without there only being one damn pizza every 24 hours or whatever ridiculous interval it is. The second that pizza comes up, one person usually needs it, and they'll call for it. But let's be honest, you all are playing with that one idiot who ends up eating the damn pizza by walking over it and going, "Oops sorry guys. I didn't realize anyone needed it."
Yeah, I'm sure you didn't, jerk
.
So enjoy your damn pizza. I hope you choke on it. Maybe after you choke on that you can go eat the chicken from Final Fight and get food poisoning or something.
What else...what else...ah, what about San Andreas?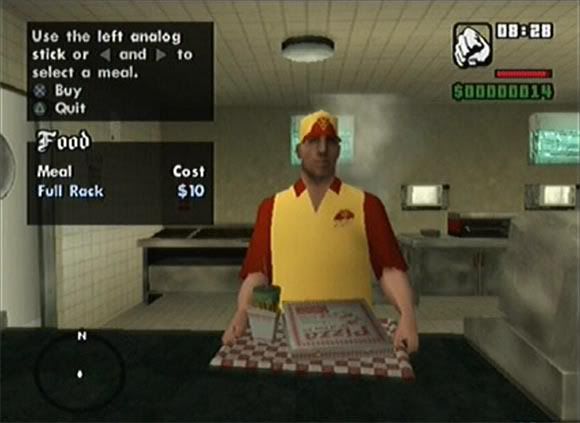 This damn game forced you to eat to keep your health up, and if you ate fast food enough, you got fat. Social commentary about the state of obesity in America? Hell no. It just tried to make me feel guilty about eating at McDonald's. Jerks. If I want my KFC Double Down, I don't need my damn video games judging me about it. I will eat what I want, and these video games will not tell me otherwise.
I am so hungry right now
.
Okay...one more, and then I think I am going to Taco Bell. They're open at 1:30 AM, right? Oh, how about Animal Crossing? Animal Crossing understood the value of food.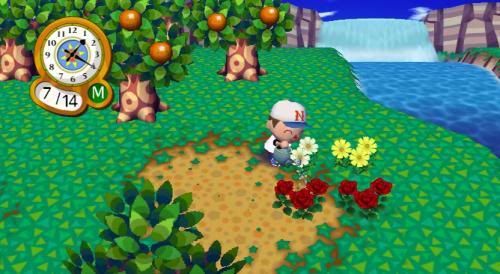 You see that fruit on the trees? That fruit is the best. Yeah, you can eat it, and it'll be awesome, but this is a video game. You don't
have
to eat that fruit. You know what I see when I see that fruit?
Profit
. That fruit can make you some good money if you sell it. It doesn't end there, either. You can buy turnips once a week, and those turn into
huge
profits if you know what you're doing.
See what I mean? AC gets it. If you feel like eating the food, you eat it and it's awesome. Your dude smiles and is all happy and stuff. Don't want to eat it? That's cool, too. You sell it and make crazy profits. Win-win. Animal Crossing is the best.
So there. I wrote stuff about food. Now then, I need to go get about a billion chicken nuggets.
---
LOOK WHO CAME:
Alakaiser