Tattoos. Lots of people get 'em. Sometimes, they wind up awesome, like the millions of rockstars you see out there. Other times, they're a damn disaster, like that one chick a while back that got drunk and had 42 stars tattoo'd on her face, or the guy that fucked up the Shoryuken command and has to live with that forever.
Well, I'd like to think that mine came out well. This was my first ever tattoo so I figured I'd start out small and get the infamous Red Ring Of Death, on my forearm. I figured that, not only would it signify my status as a gamer, it would also be a vaguely unique and pretty cool way of saying that, as a human, I myself am pretty flawed and defective (Not in an emo way...assholes). So, in the interest of having the entire internet ridicule me for my idiocy, I figured I'd tell the world and show them what I have to live with now. Forgive the crappy quality, as the only working camera I own is my phone, but hopefully you can make it out.
And before you ask, yes. That's a Monopoly: Transformers Edition sitting next to a Blanka Edition Street Fighter IV Fightpad in the background. Nerd status is pretty much in full effect for me.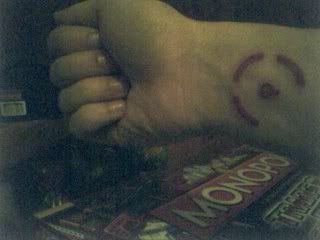 So yeah, viola and such! I can definitely say that it's an addicting experience, and I'll definitely be getting more. I might even attempt to give R3y Gutierrez a run for his money when it comes to nerdy tattoos. I already have my next ones planned- one of the Worms from the Worms series, the Rock Band instrument logos, the "Grenade with a smiley face pin" from Battlefield: Bad Company, and a few more...but for now, this one shall do. Anyone else got any gamer tattoos they want to share? Aside from you amazingly sexy people with the Mr. Destructoid tattoos. Oh how I envy you.
---
LOOK WHO CAME:
vApathyv
Evergreen 1
Generic Purple Turtle 1