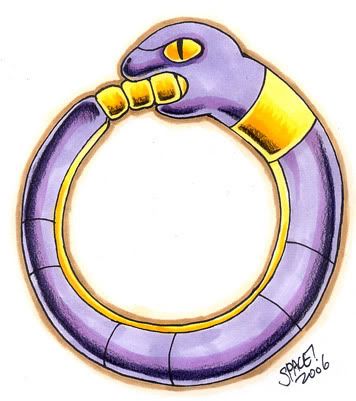 We here at Destructoid have been having a lot of fun with
Ekans
recently, pretty much entirely because of
Jim's
love of the little purple bastard. Now we've all been saying that perhaps the greatest thing about Ekans is that it's snake backwards. But really...
what does this mean?
Plenty of people have been confused about this absolutely crucial aspect of what may be the best Pokémon ever. I've been asked, "Hey ace of knaves, Jim's saying Ekans is snake backwards, and that's great and funny and all...but I don't get it. To me Ekans just looks like a regular old forwards snake. What am I missing?" Do not be ashamed! For the brilliance of Ekans is a complex one, and I shall take it upon myself to explain it to you now. Let's start at the beginning.
And the end.
Now, before you understand anything, you must know this: it's all in the spelling. See, the first letter in "Ekans" is "E." All right? See, the thing of it is, the
last
letter in "snake" is also "E." It's all about opposites. In being snake backwards, Ekans starts with the letter snake ends with. Do you understand? No? Well then let's press on.
The second letter in Ekans is "K." This is also the penultimate letter in snake. Penultimate means second to last, but because Ekans is snake backwards the "k" comes second from first, also known as second, because the locations of the front and back of the words are opposites. Is this making sense? The picture is beginning to come together you see, for if you take what we've learned so far we've established that Ekans starts with "Ek" while snake ends with "ke." A pattern is developing, and the brilliance of Ekans is coming into focus, if you merely take the time to see it.
Okay now this is where I'm going to lose a
lot
of you. You see, the third letter in Ekans is "A." And try to stay with me here...the third letter in snake is
also
"A." I know you're probably thinking to yourself, "But ace of knaves! If these letters are the same, Ekans can't
possibly
be snake backwards! Your argument has been torn asunder through your own reasoning!" Not so, friends. For you see, Ekans and snake both have five letters in them, an odd number, so forwards or backwards, the middle letter
stays the same.
So in fact, the middle letter being the same in both words makes perfect sense! In fact, were the middle letters different, these words couldn't possibly be opposites of each other at all. Incredible!
Moving on to the fourth letter in Ekans, "N," which is the second letter in snake. The "penultimate" discussion that we had earlier about "K" can now be applied in this situation, only reversed, because, you see, Ekans is snake backwards, so we would just do what we did earlier, but backwards, since we've now reached the last part of the word Ekans or the first part of the word snake. Hopefully you're beginning to get the hang of this, and realize that the same logic can really be applied to every one of these letters.
Now it falls to the last letter, the "s." This letter ends the word " Ekans," as you can plainly see. Ekan
s
. See? Right at the end there. And what is the first letter in snake? "S!" That's right. The beautiful symmetry is completed at last, for if we combine all of the knowledge we have acquired, it is blatant that Ekans is snake backwards because it is snake
spelled
backwards. Stupendous! And this, you see, is the sheer magnificence of Ekans. It's just a shame the magic is lost when it evolves into Arbok. If we follow the same process Arbok backwards becomes kobra, which is clearly just nonsensical gibberish. A pity really, but we'll always have Ekans.
...wait a second. KOBRA SOUNDS LIKE CO-
---
LOOK WHO CAME:
ace of knaves
Bully in the Alley 1
Sentry 1
RIMoonlight 1
Renbo 1