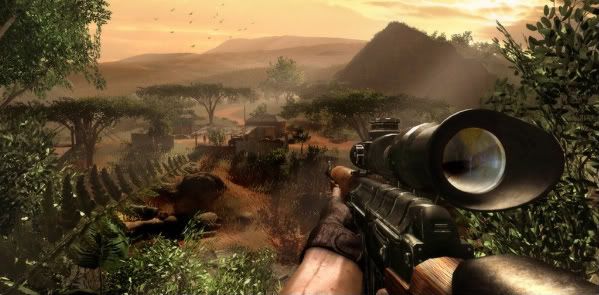 Let me just start out by saying that
Far Cry 2
is one of the most interesting and rewarding experiences that I have had with a videogame in recent years. While it certainly did not achieve perfection, it in and of itself,
Far Cry 2
is still a very impressive experience that provides a progressive insight into a bright prospective future for the medium.
Recently, I had a realization during a
podcast
with a few other members of the Destructoid community discussing history and gaming. My thought was that not only is
Far Cry 2
one of my favourite games, but it is also probably one of the best examples of a historical game. You may be thinking that
Far Cry 2
is not a historical game. It is a piece of fiction, and history, by definition, is a nonfictional aggregate of past events.
I have
previously argued
that most history games, through attempts at accurate recreation, misrepresent the very events they attempt to depict merely by nature of what they are. Player choice in historical games creates consequences which in turn create a disconnect with the very history they attempt to depict. An accurate illustration of history and a good game are two things that can never coincide, as retelling an event and giving the player choice and power to act conflict by their very nature.
Rather, a more faithful route in presenting history in games is crafting a fictional experience which captures the essence of a historical event or era. By steeping the game in fiction any concern of misrepresenting a historical event is removed. Just because something is fictional does not mean it has to be fantasy.
Despite
Far Cry 2
being a piece of fiction, it has a very believable setting and plot. Set in a modern-day African nation,
Far Cry 2
allows you to live the life of a mercenary on mission to assassinate an arms dealer in the midst of a civil war. Unlike many works of fiction in the medium,
Far Cry 2
strives for realism in nearly everything it does. There is not really anything in the game that makes you suspend your disbelief. In many ways
Far Cry 2
does not feel like a videogame, but as accurate a portrayal of the real world in a digital form that, at least in my experience, has ever existed.
If you are familiar with Post-Colonial African history, over the last half century civil conflicts like the one depicted in
Far Cry 2
have been commonplace: Sierra Leone, Rwanda, Zimbabwe, Somalia, Sudan, the list goes on and on. Just as in real life, the African nation in
Far Cry 2
, is being torn apart by militant factions lead by warlords. These warlords are powerful individuals seeking to seize control and exploit the local populations. However, the real enemy in all of this is the arms dealers that take advantage of these men in power to rape and destroy these nations merely for personal profit. Despite being fiction,
Far Cry 2
tells a story about something very real, tangible, and incredibly relevant to the modern era in a way that a simulation never could.
---
LOOK WHO CAME:
Kyle MacGregor Burleson
mourning orange 1
Kraid 1
Bulkmailer 1