Now before I get in to my story let me just say that I love Modern Warfare 2, I love it so much that I bought it for the 360, PS3
AND
DS. I never fell in to the whole, "This game is buggy", "this game is shit", "and this game is blah blah blah blah". For me the game was fine the way it was and is and that's the problem I suppose.
When I first started playing MW2's multiplayer I was completely out of my element. It was not unusual for me to go an entire round (Team Deathmatch) with 3 kills and 25 deaths. I have never been any good at first person shooters on a console, up until the release of the 360 I've always played my shooters on the PC. Needless to say it took me a little bit to get used to the control scheme.
Slowly but surely I started to get the hang of things, my kill count was climbing as was my level, eventually I found myself sitting atop the list of most of my matches, and if I was not the top killer I was always in the top three. My gun of choice was always the RPD, I don't know why I connected with it so well but I did and it served me well, my game of choice was always Team Deathmatch. I guess I choose Team Deathmatch because I liked the "team" part of it. I enjoyed knowing that I had several other people watching out for me, helping me to achieve my goal.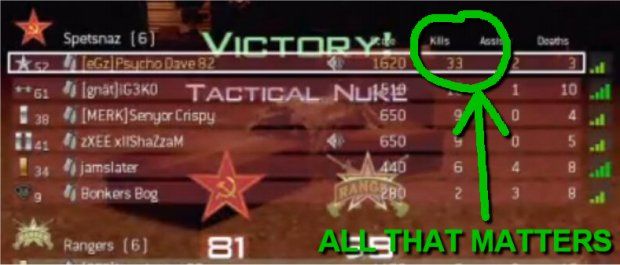 After a few weeks though something hit me, I wasn't playing with a team, I didn't feel like there was anyone else on that virtual battlefield that had my back. In essence I was playing with myself (no, not masturbation) and playing against everyone else. I was more interested in how many kills I had rather than if my team won or not. I didn't really care if I went three or four games in a row with my team loosing, as long as I had the most kills I was happy.
But happy wasn't cutting it anymore. After hitting max level plus an additional 30 I decided it was time to put the controller down (for MW2 at least) and start playing something else.
Fast forward a month; so there I was, walking through the mall with my family. We were just about ready to leave when my girlfriend asked if I wanted to stop in at my "Mecca' as she calls it, that Mecca is also known as "GameStop". Typically I would not have stopped in to this particular GameStop (Woodfield Mall, Schaumburg, IL) because they typically hire young "used car salesmen" who are overly pushy when all you want to do is buy something and leave. Tonight though I decided to put my differences aside and I stopped in. A few minutes later I walked out with my brand spanking new copy of Battlefield: Bad Company 2.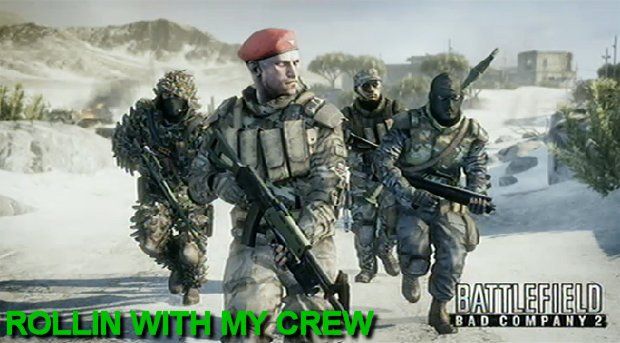 Now I had played and loved the original Battlefield: Bad Company so buying part two was a no brainer for me. I took it home and started playing, not getting in much game time however due to a massive migraine.
The next day I finally had time to sit down with my new game and I was not disappointed. I started with the single player campaign, the old crew was back and still funny as all hell. The core mechanics of the first game were intact but everything felt better, tighter. After a day and a half I had beaten the single player mode. With that out of the way I could finally sit down to see what all the fuss was about regarding the multiplayer. Let me just say, the fuss you may have heard was and is right.
It took me a few rounds to get a good feel for what was going on. The first thing I noticed that I preferred over MW2 was that I had multiple choices of classes that I could choose from. No longer was I stuck to being just a grunt with a different gun, now I could be a medic, an engineer a recon sniper etc, etc. I felt like my class had more of a purpose than in MW2. I wasn't just there to get the most kills; I was there to help my team win.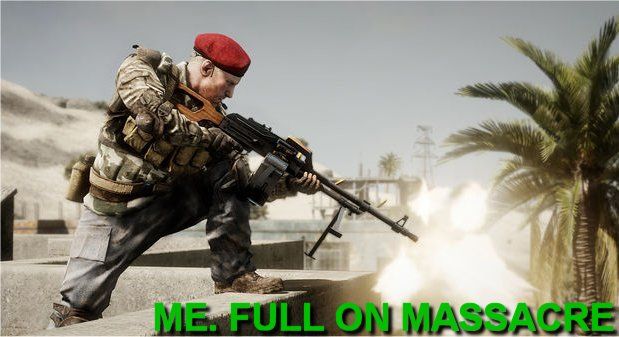 Speaking of teams, I started off as just your run of the mill soldier, I was running from place to place shooting at anything that moved, when I was killed (which was often) I was randomly spawning wherever. This all changed however the more I played. I chose a different class (Recon), I started spawning where my other teammates were and I watched their backs as they ran from one building to another, taking out anyone who might pose a threat.
Finally I felt like part of a team.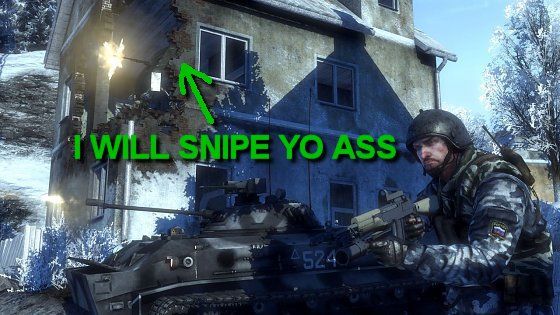 I noticed that my teammates would follow me, from place to place. They would enter buildings with me and cover one side while I covered another. If we both died (or all died) we would all rush to a new spot together instead of on our own, drastically increasing our chances of success. This, to me was so much better than MW2.
Sure the leveling is slower and spawning takes a little bit longer but fighting as a team all with the same objective as opposed to fighting by yourself with every one trying to be better than everyone else feels better, it makes for a more complete experience.
I will always hold a special place in my heart for MW2, hell I'm sure I'll still play it, but for now I am needed elsewhere. I am now part of a team who needs me to be sharp and to stay frosty in the heat of battle.
These are great days we're living, bros. We are jolly green giants, walking the Earth with guns. These people we wasted here today are the finest human beings we will ever know. After we rotate back to the world, we're gonna miss not having anyone around that's worth shooting.
---
LOOK WHO CAME:
ChillyBilly
CelicaCrazed 1
Brandnamecommercial 1
Spenc 1
Caffeine Knight 1
AlLeBlanc 1