Because he already took the title "Collecting"
Good evening everyone, my name is Bill and I am a Fanboy. Now I'm not your typical fanboy, I don't subscribe to the whole 360/PS3 war that we are all too familiar with here on Destructoid. No, I am a Fanboy in regards to one of Destructoid's own,
Funktastic
.

I've been collecting video games and video game swag for a few years now but I really started getting serious when I moved to Chicago. I lived in Montgomery, AL for a couple of years and was disappointed, to say the least in the amount of shops or stores that I could visit to search for old games or game collectibles.
My gaming collection started to grow stale and the only thing that I was adding were the new games I was purchasing as they were released. I tried visiting flea markets (two that I knew of in a 30 mile radius around Montgomery) and had no luck, and to make matters worse every so often as I visited Destructoid I would stumble upon these amazing posts by a gent named
Funktastic
.
Like many of you I was in awe of the amount of games/merchandise this guy seemed to score. Every couple weeks he seemed to find the most amazing stuff. It pissed me off that all of these great games were out there and the only way that I could get my hands on them was if I shopped on Ebay or traveled hundreds of miles outside of Montgomery.
Flash forward two years later.
After a brief stint down south I ended up in the windy city (Chicago, incase you weren't sure). Once I arrived in town I started scouring the area for any little shops that specialized in old school games, lucky for me I have two within a 3 minute walking distance. One of these just happens to be
Funktastic's
Holy Grail of gaming stores, Cash Converters.
Now my Cash Converters isn't as cool as
Funktastic's
is but it does the trick. Another bonus to moving to a larger city was the amount of Goodwill stores that we have here. If any of you have ever read any of my collection posts you will know that I absolutely LOVE Goodwill. I am constantly buying things from their auction website and I visit their stores on a weekly basis. If you are serious about collecting and you have Goodwill stores near you then you owe it to yourself to make a trip. Plus, by buying stuff from Goodwill or the Salvation Army you are helping those who may not be as fortunate as yourself. (Bonus!)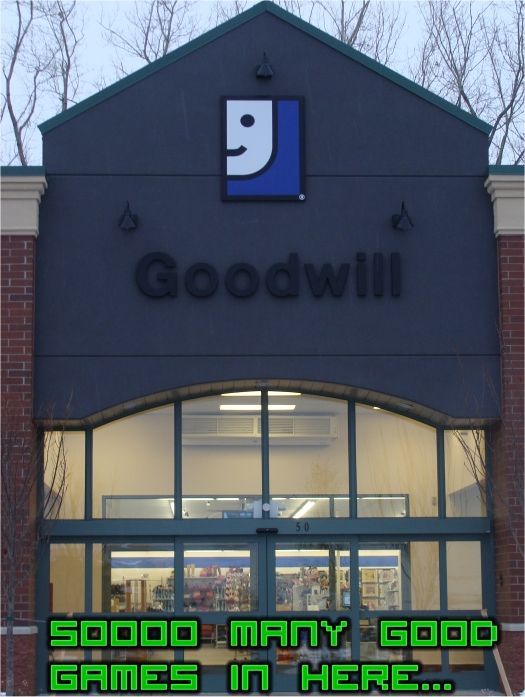 I suddenly found my collection growing at an alarming rate, I was finding old systems still in the box, old games still in the cases, old toys and manuals and player's guides, all in great collectible condition. I started to feel like a real collector. With all of this collecting going on I needed a way to keep track of everything, enter possumwrangler (another great collector here on Destructoid) and his great Excel spreadsheet. After setting up the spreadsheet to my liking things started looking good. My collection was all neat and in order and I had plenty of stores to shop at.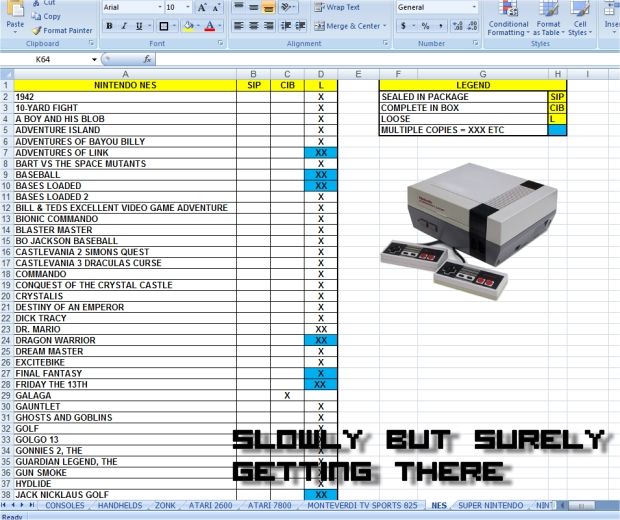 If you have ever thought about starting to collect games there are some things you need to take in to account before you start. First and foremost it ain't cheap. You will find some gems at some pretty cheap prices but you will definitely need a solid cash flow to keep the collecting going. Secondly, you will need to make sure that you are collecting for the right reasons, for me it is the love of video games. Everyone has their different reasons for doing things and you just need to find yours. Third, you need to make sure that you have lots of spare room for all of this stuff. Seriously, I thought I had plenty of space but I realized this weekend that I am slowly closing in on needing an entire room just for my collection.
You will also need to make sure to do your research. A lot of specialty stores who sell video games know what they are worth and they charge for it, you need to make sure that you aren't getting ripped off. Do a quick Google search for stores in your area, if you're in the states see if you have any Goodwill or Salvation Army's near you.
Funktastic
has mentioned this time and time again and I cannot agree more, the best thing you can do is to make friend with the people who work at the shops where you plan on buying games from. Who knows maybe one day you too will have your own "Box "o" Stuff".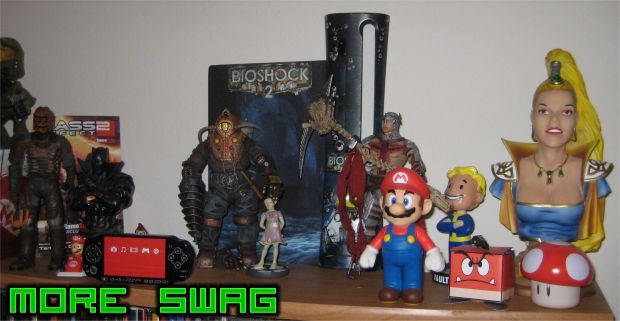 I guess that's about it really. Thanks to
Funktastic
for sharing his collection with everyone. Thanks to everyone else here who is passionate about collecting and sharing and thanks for reading.
Good hunting everyone!
Chilly.
---
LOOK WHO CAME:
ChillyBilly
Elsa 1
de BLOO 1
Chris Carter 1
Tyler Jones 1
Funktastic 1
mourning orange 1
Kira Plaga 1
Smurgesborg 1