In a recent interview with the
Technology Guardian
Eiji Aonuma apologised for the Water Temple in Ocarina of Time. But more importantly, he dropped a hint about the new Wii game... while on the subject of a new Zelda, he said:
"I have an eight-year-old son myself at home, and quite recently he started playing The Phantom Hourglass for DS, because when the software first hit the market he was too young. When he started playing with the boat, I told him: 'In the next Zelda, you are going to be able to ride on the train.' He answered: 'OK, Dad, first boat, and then train? Surely next time, Link is going to fly in the sky.'... I just don't know. If many people make many speculations ... some of them might be correct. Right now, I have to refrain from commenting on anything."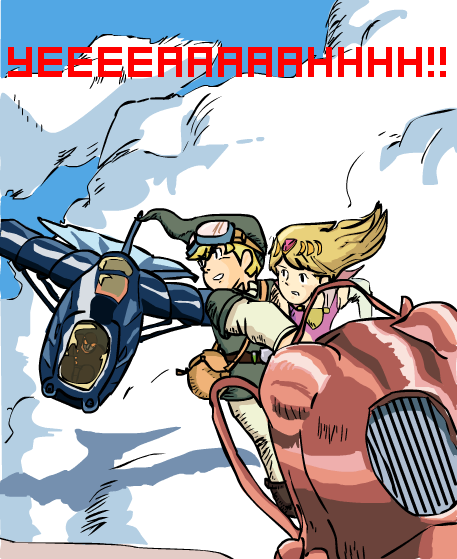 Something like this?
Now at this point, everything is just pure speculation, but what if, much like in Wind Waker and Phantom Hourglass, instead of this hypothetical flying machine being another Epona or even a Train, the overworld is actual built around the mode of transport?
I know that Nintendo aren't people to take too many risks, and I know this is probably just throwaway comment, but the fascination with airships I have (thanks to Megaman Legends and Castle in the sky) is secretly hoping that link will be flying some sort of airship. Honestly though, I'm curious to know what you guys think. Even though I will probably never own a Wii, this still makes me a little excited.