Damn this day. Damn it to hell. I'm not even going to describe it for you because you would punch your PS3. You'll see soon enough what I mean. Although. It is Friday the 13th so you'll never know what else might go wrong. I've had my fair share.
8PM EST: Marvel vs. Capcom 2 Host: Santanaclaus89 (PSN: Moosehole)
Beat each other in the nuts for me will you? Nice and hard and with a lot of aggression!
9PM EDT: BlazBlue Host: JackofNoTrades(PSN: JackofNoTrades85)
Nice another game to let off some steam. Once again beat and kick each other to pulp!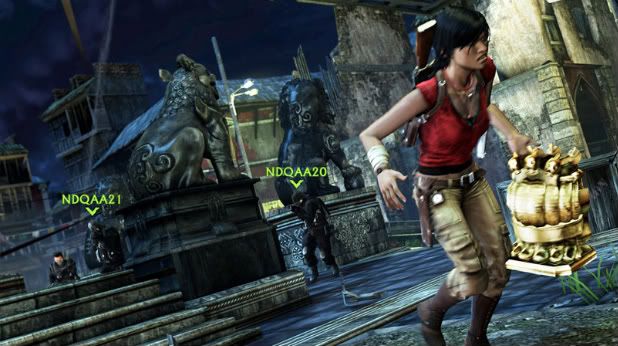 10PM EST: Uncharted 2 Hosts: FalconReaper (PSN: FalconReaper). Possible other Backup Hosts:InfraredChimera (PSN: InfraredChimera) barcaxavi06 (PSN: barcaxavi06)
This game has even more rewarding fight mechanics than the fighting games. *Punch in the dick!*
10PM EST: Modern Warfare 2 Host: Santanaclaus89 (PSN: Moosehole)
Shoot everything that moves. Do it for rage, do it for TAKESHI!!!!
(p.s. you might want to tell everybody if you want to be a back-up host.)
(p.p.s. I haven't got a clue what that pic is. But it looks cool. So don't shoot me if it isn't actually MW2)
12AM EDT: Socom: Confrontation Host: Santanaclaus89 (PSN: Moosehole) or y0j1mb0 (PSN: k0wb0y-b33b0p)
If there might be some anger left let it all out on your team mates. STAB EVERYBODY! In the face, in the groin, in the back. EVERYWHERE.
Have fun tonight with all those new kick-ass games! It's truly a good year to be a gamer. Except if your name is Takeshi.
I'm going to bed.
Yours,
Takeshi
---
LOOK WHO CAME:
Takeshi
Crunshii 1
CelicaCrazed 1
SantanaClaus89 1
FalconReaper 1