Posted by:
Ryan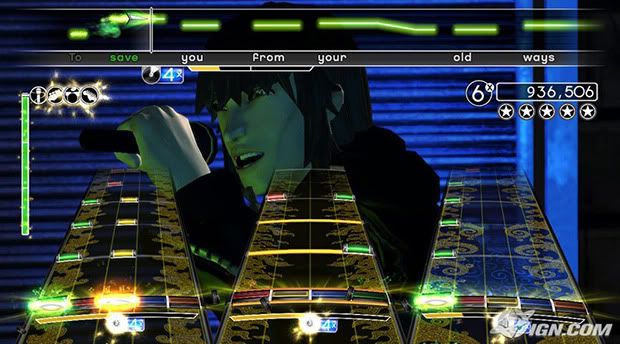 I had forgotten about the lag. See, old-school TVs just take what ever images they get and throw it up on the screen, but these new HDTVs have to re-scale the image and run filters on it, which makes the image lag a little. And I mean only a little: we're talking like 65 milliseconds. That's less than a tenth of a second, which doesn't matter at all when you're watching TV, or playing an RPG... but it turns out that a tenth of a second of lag is enough to make me miss every other note in a Rock Band song.
So I spend a good amount of time yesterday calibrating the lag on Rock Band 2 and on my DDR game to match up with the lag on my new TV. DDR was particularly exhausting, because I had to change a number, play a fast song to test how accurate it was, and then adjust it again until I was getting mostly perfects. To be honest, I was actually really tired by the end of getting my DDR game calibrated correctly.
And so, since I was already going through my music games, I took a look at the new Rock Band 2 songs available for download (which I haven't done in a good while). And later that day when I was with Noelani, I mentioned that I happened to see "ABC" by the Jackson 5 on the list of downloadable songs. Boy, did I underestimate the reaction I was going to get from her. She lit up, and immediately suggested that we go out and find a Rock Band microphone, and go download that song.
So we did. After getting something to eat, Noelani and I went to a used game shop, she bought a microphone, and then we went by my house and downloaded some songs: including "Hey Baby" by No Doubt, "Sprode" by Freezepop, "Don't Stop" by Fleetwood Mac, and of course "ABC" by the Jackson 5.
"Sit down, girl! I think I love you!
Get up, girl! Show me what you can do!"
                                                                                                            - From "ABC" by the Jackson 5
Why yes, Noelani really did sing that at my house yesterday, and it was awesome. She and I switched off between singing and playing guitar for a good few songs, and it was much more fun for me than it probably should have been. Noelani seemed to be enjoying herself quite a bit as well.
When people are singing, they just have more license to be silly for some reason. All I have now is a mic and a plastic guitar, but I know that this game has the potential to make me as stupidly happy as Samba De Amigo used to when I would bring it to Allison's parties back in the day.
.
.
.
---
LOOK WHO CAME:
LK4O4