As you all must have seen by now EA has been successful in exploiting a classic epic poem and sex in an attempt to garner attention. The Lust level was recently showed off at TGS and it's flat out disgusting, disturbing even, but not in the way EA intended it to be.
Maybe they thought that giant ovulating breasts screamed sex appeal, creepy, disarming, or even 'lust'. Well they don't, frankly. These breasts highlight the sexual segregation and flat out misogyny that is rampant in the industry.
These people need to understand that it takes two to lust, and I don't mean two breasts either.
Where are all the penises?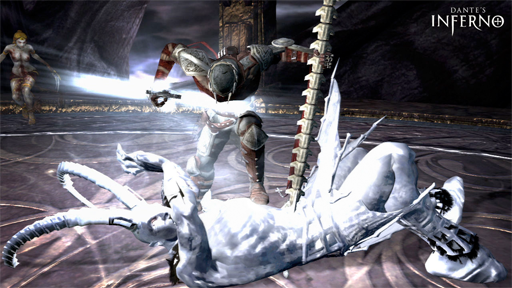 The only male enemy in lust [thus revealed] is wearing a loin cloth. note: Naked woman in the background.
I'm really sick of the narrow vision in this industry, particularity in Triple A titles. There is no excuse for this sort of thing anymore. As I said it takes two to lust and they're turning hell into male fantasy.
"But Perri! There are babies coming out of her nipples!"
So again they're reducing women to breasts and baby makers. It's just the most puerile example of chauvinist pig-headedness I've ever witnessed. I'm not a feminist and this has actually offended me. I'm sick of the way this industry treats women, and I hate that it is so accepted.
Bayonetta is a different issue. While I found the character to be horrifying at first I think that the developer is actually treating it in a satirical fashion [Platinum has been all about the over the top self-aware satire this generation, btw...] and I know there are exceptions but this is just infuriating.
Now, I don't know much else about Lust, they could have penises around every corner in which case this would nullify my opinion and make this blog obsolete but I really despise the developer for thinking that this is edgy, that this is cool. The female figure has been so perverted and has been treated as a commodity for far too long in any medium for this to have any sort of edge or even relevance and that in itself is a travesty.
This game is a completely wasted effort that not only [and obviously] is a complete insult to it's 'source material' but is also, now, a complete insult to me and presumably women. This game seems to be trying to move 'shock value' forward, trying to push the boundaries as to what will be accepted, what is allowed. Blowing up female assets that have been prevalently featured in any given media since it's existence is NOT how you do this. When will male nudity become accepted? When will this playing field be leveled? When will this industry grow up and treat things artistically and maturely?
To their credit, and for this I am thankful, EA has managed to confirm to me, that I can be offended and disgusted in things- and here I was thinking I was some all monotonous stoic.
ugh.
---
LOOK WHO CAME:
perri
perri 1
timtheterrible 1
Elsa 1