Let's have a look at it female characters in video games. I usually expect them to be helpless good looking beings waiting to be rescued by other protagonists. This has changed through time and nowadays we see them as main characters capable of saving themselves and accomplishing incredible things. The number of playable female heroines is considerably less than non-playable female characters, I am beginning to see a trend; we are getting more and more. These girls aren't just there to look good. So Here is a list of my Top 10 Gaming Heroines!
10.
Chell
from
Portal
Now I'm thinking with portals if you know what I mean.
Okay, so Chell doesn't really speak, in fact, we don't know we're playing a woman until we first use a portal. This created a stale character. But it is also her greatest strength. Chell ignores all the taunts from GLaDOS and manages to keep sane and overcome many obstacles before destroying GLaDOS, she has proved to be more than capable. I'm hoping she stays in the Portal Sequel.
9.
Samus
from
Metroid
Yeah, that's a woman under that armour.
I've only played a bit of Metroid at friends houses when I was younger, but even though I still didn't understand many things, the reveal of the Protagonist as a girl was fantastic. It showed that Girl kick-ass too and I reckon it paved a path for the heroines to come.
8.
Joanna Dark
from
Perfect Dark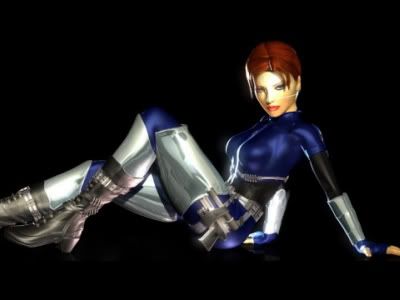 Hey, if you look that good, the bad guys won't know what hit them.
I'm not talking about Zero. The Joanna in the original game was strong, resilient and knew her stuff. She made James Bond look like a pansy. Not much more I can say here!
7.
Faith
from
Mirror's Edge
Yeah, she runs away, she also runs up to you and kicks you in the groin.
A pro at Parkour. Faith is really not into walking as she is into running… really fast. That being said, she is still a caring individual (Especially towards her family) that Still manages to best even the best of the law enforcement… Without weapons. Faith's knack for running into and away from her problems at the same time is absolutely brilliant and mixed with the solutions she finds along the way, it's easy to put her on this list.
6.
Zoey
from
Left 4 Dead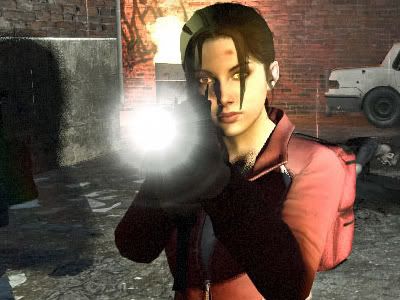 I'm Blinded! By her beauty! …Okay, stop shining that light in my eyes, I really can't see.
This horror movie gal can take care of herself; she's more than capable of handling herself in a zombie party. Full of hilarious quotes "Oh no! The zombies killed God!", Zoey is my favourite character in Left 4 Dead, always the one I choose first. Plus; Zoey is voiced by Jen Taylor, who is also Cortana in the Halo series.
5.
Carla Valenti
from
Fahrenheit/ Indigo Prophecy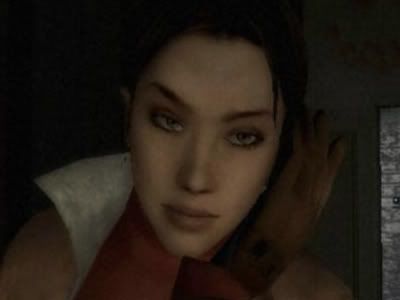 She's going to solve this bitch of a case… and look good doing it!
Carla Valenti; an NYPD Detective Inspector who is investigating some ritual murders. Extremely capable, she knows what she's doing, but one of the best things here, is her weaknesses as well as her strengths. Carla is a highly claustrophobic character, by sharing this with the player, it makes us understand her better. Plus she later determines the future of planet earth along with Lucas kane (and a Sex scene).
4.
Jade
from
Beyond Good and Evil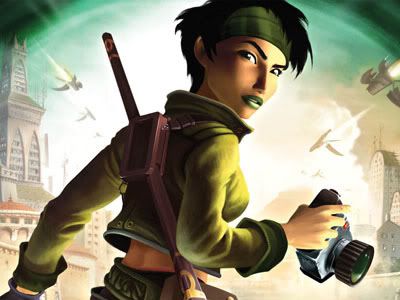 Nice! ...How many Megapixels in that thing?
Not just a simple reporter, Jade takes her camera and dai jo stick and investigates the corruption of the military force that was supposed to protect them from the marauding aliens, the DomZ. Jade was simply a regular gal caught in the middle of a conflict while running an orphanage for the injured children of Hillys. A very unique character (Especially with the ethnicity discussion) Jade has rightfully earned her place on this list.
3.
Lara Croft
from
Tomb Raider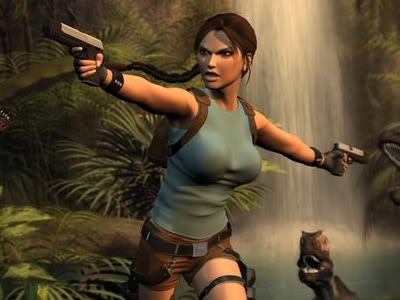 Check out the guns on her! … I mean the ballistics… I mean, ah nevermind.
You have to have Miss Croft on this list. No matter what iteration of her is around, she always kicks ass, solves puzzles and… shimmy's on ledges. Surely the most recognizable character on this list (Heck, people who don't even game know her), Lara has the looks, the moves and the love for Tomb Raiding helping her become the most successful Gaming Heroine of all time. Most successful? I don't doubt it, best? Close, but no.
2.
Cate Archer
from
No One Lives Forever 2
She's thinking of the most humiliating way to kill me… and I don't care!
I very much doubt that you've played No one lives forever and its sequel. Shame on you! Cate proves to everyone that it's a bad Idea to send a Man on a mission, especially when Women do it better! Handy with a whole manner of weapons, vehicles and gadgets. Cate is sexy, stylish and possibly single and she sure gets in H.A.R.M.S way a lot. Cate Archer (Whom I only discovered recently, really, why did no-one tell me how awesome NOLF is?) came incredibly close to the number one spot. She is that cool.
1.
April Ryan
from
The Longest Journey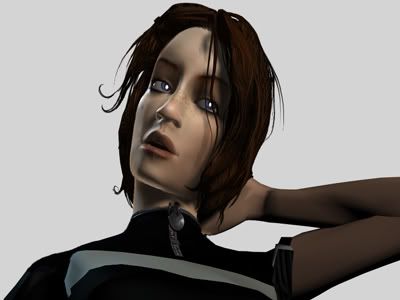 Yeah… she just saved two worlds… Now she doesn't know what to do for the rest of the day
That Number one spot belongs to April Ryan. Sent on a quest to save two worlds, April manages to forge solutions MacGyver style. Sometimes a little too much (I'm still confused about the rubber duck solution). Anyway, April is the deepest character I have ever had the pleasure of controlling (Actually, scratch that, it sounds wrong), just listening to her commentary only scratches the surface, she also keeps a diary which gives even more insights. Apart from being the most realistic character I know, April manages to solve many insane puzzles, meet a lot of strange people (and things) and eventually saves the world… Oh wait, no, she saves TWO WORLDS! I think she just one-upped everyone on this list!
So there you have it, They aren't just eye candy after all! I mean, I don't mind them showing some
assets
, but there is so much more!
Do you agree? Who is your favorite? Think we will see more of them?