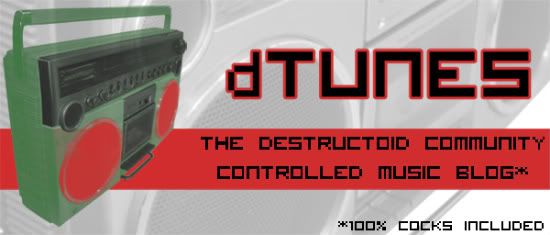 So...I am unfortunately coming to the end of my contribution to dTunes. Which is a shame because I love putting these articles together. But as
RonBurgandy2010
has stated, it is always great to pass the baton onto somebody else to share their tastes in music with the rest of the community.
Since the end of the week approaches I figured I would dedicate this day to one of the most beloved gateway bands in the history of music. While it may not seem original to bring them into focus through dTunes, I believe it necessary. They are one of the very few that play the game collectively by their rules.
With little radio play, promotional marketing and over excessive press coverage, there is only one reason these four men have ascended in artistry as well as personal wealth; The creative spark of talented individuals fusing together to form a creation which many have tried to replicate to the same magnitude and failed.
Before I begin this article, just let it be known that the singles released to video are in no way the best material Tool has brought forth. If you want to have a really in depth look into the music they produce, be sure to check out tracks:
Eulogy, H, Pushit, Third Eye, Lateralus, No Quater (Led Zeppelin cover), Swamp Song, Jambi
and perhaps my absolute favorite tune of theirs;
The Patient
.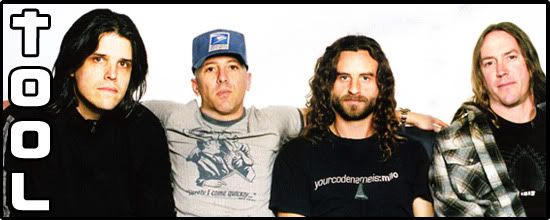 The Early Days
During the 1980s, each of the future members of Tool moved to Los Angeles. Both
Paul D'Amour
and
Adam Jones
wanted to enter the film industry, while
Maynard James Keenan
found employment remodeling pet stores after having studied visual arts in Michigan.
Danny Carey
performed as a drummer for
Wild Blue Yonder
,
Green Jell˙
and
Carole King
, and played in the Los Angeles area with
Pigmy Love Circus
.
Keenan and Jones met through a common friend in 1989. After Keenan played a tape recording for Jones of his previous band project, Jones was so impressed by his voice that he eventually talked his friend into forming their own band. They started jamming together and were on the lookout for a drummer and a bass player. Danny Carey happened to live above Keenan and was introduced to Jones by
Tom Morello
(Guitarist from Rage Against the Machine)
, an old high school friend of Jones. Carey began playing in their sessions because he
"felt kinda sorry for them"
, as other invited musicians were not showing up. Tool's lineup was completed when a friend of Jones introduced them to bassist D'Amour. Although
Lachrymology
was also explained to be an inspiration for the band's name, Keenan later explained their intentions differently:
"Tool is exactly what it sounds like: It's a big dick. It's a wrench.... we are... your tool; use us as a catalyst in your process of finding out whatever it is you need to find out, or whatever it is you're trying to achieve."
After only a few gigs, the band was approached by record companies, and only three months into their career they signed a record deal with
Zoo Entertainment.
In March 1992, Zoo published the band's first effort,
Opiate.
The EP included the singles
Hush
and
Opiate
. The band's first music video,
Hush
, promoted their dissenting views about the then-prominent
Parents Music Resource Center
and its advocacy of the censorship of music. The band began touring with
Rollins Band
,
Fishbone
, and
Rage Against the Machine
to positive responses.

Tool - Prison Sex
Undertow
The following year, at a time when alternative rock was at its height, Tool released their first full-length album, Undertow. It expressed more diverse dynamics than Opiate and included songs the band had chosen not to publish on their previous release, when they had opted for a heavier sound.
Tool later played several concerts during the
Lollapalooza
festival tour, and were moved from the second stage to the main stage by their manager and the festival co-founder
Ted Gardner
. At the last concert of Lollapalooza in Tool's hometown Los Angeles, comedian
Bill Hicks
introduced the band. Hicks had become a friend of the band members and an influence on them after being mentioned in Undertow's liner notes. He jokingly asked the audience of 60,000 people to stand still and help him look for a lost contact lens.
With the release of Tool's follow-up single
Prison Sex
, the band again became the target of censorship. The song's lyrics and video dealt with child abuse, which sparked controversial reactions; Keenan's lyrics begin with:
"It took so long to remember just what happened. I was so young and vestal then, you know it hurt me, but I'm breathing so I guess I'm still alive."
The video was created primarily by guitarist Adam Jones, who saw it as his
surrealistic interpretation
of the subject matter.
In September 1995, the band started writing and recording their second studio album. At that time Tool experienced its only lineup change to date, with bassist D'Amour leaving the band amicably to pursue other projects.
Justin Chancellor
, a member of former tourmates
Peach
, eventually replaced D'Amour, having been chosen over competitors such as
Kyuss'
Scott Reeder
,
Filter's
Frank Cavanaugh
,
Pigmy Love Circus'
E. Shepherd Stevenson
and
ZAUM's
Marco Fox
.

Tool - Sober
Ćnima
This was my gateway album to much of the music I appreciate now. I first listened to this album from start to finish when I was 16 years of age. From that point on it was difficult to see me studying without my diskman tuned into my ears, tapping my pens on the desk and sometimes shutting my eyes while swaying my head in a hypnotized-like state. While most people at the time were off listening to
Eiffel 65
and
Crazy Town
, I was baptized to a new way of listening and in the long run and new way of thinking. This album did more than entertain me for a short period of time and drop off the charts; It literally opened my mind.
But it was long before my awakening on October 1, 1996, when Tool released their second full-length album,
Ćnima
in Compact Disc format and in vinyl format on October 15, 1996. The album was recorded and cut at
Ocean Way
, Hollywood, California and
The Hook
, North Hollywood, California from 1995 to 1996. It was certified triple platinum by the
RIAA
on March 4, 2003.
The title Ćnima
(pronounced ON-ima but who really gives a shit how you say it?)
is a combination of the words
anima
(Latin for 'soul' associated with the ideas of "life force" and a term often used by psychologist Carl Jung)
and
enema
the
medical procedure
.
The album was dedicated to satirist
Bill Hicks
, who had died two and a half years earlier. The band intended to raise awareness about Hicks's material and ideas, because they felt that Tool and Hicks
"were resonating similar concepts"
. In particular, Ćnima's final track
Third Eye
is preceded by a clip of Hicks' performances, and both the lenticular casing of the Ćnima album packaging as well as the chorus of the title track
Ćnema
make reference to a sketch from Hicks's
Arizona Bay
, in which he contemplates the idea of Los Angeles falling into the Pacific Ocean.

Tool - Stinkfist
The break between albums and lawsuits
A legal battle that began the same year of the album opening, interfered with the band's working on another release.
Volcano Entertainment
—the successor of Tool's by-then defunct label Zoo Entertainment—alleged contract violations by Tool and filed suit. According to Volcano, Tool had violated their contract when the band looked at offers from other record labels. After Tool filed a countersuit stating that Volcano had failed to use a renewal option in their contract, the parties settled out of court.
During this time, Keenan joined the band
A Perfect Circle
which was founded by long-time Tool guitar tech
Billy Howerdel
, while Jones joined
The Melvins'
Buzz Osborne
and Carey drummed with
Dead Kennedys'
Jello Biafra
on other side projects. Although there were rumors that Tool were breaking up, Chancellor, Jones, and Carey were working on new material while waiting for Keenan to return. In 2000, the
Salival
box set was released, effectively putting an end to the rumors. The CD contained one new original track, a cover of
Led Zeppelin's
No Quarter
, a live version of Peach's
You Lied
, and revised versions of old songs.

Tool - Ćnema
Lateralus
This release has been set at the top of my all time favorite albums of all time for quite some time now but it wasn't always so. All the winning elements of classic, gritty and evolutionary artistry from previous Tool efforts flowed into the creation of this 13 track eye opening device but there was so much more beneath the surface that I was unknown to until later on down the track.
In January 2001 just at the peak of my mind alterations from their previous release, Tool announced a new album,
Systema Encéphale
, along with a 12-song tracklist containing titles such as
Riverchrist
,
Numbereft
,
Encephatalis
,
Musick
, and
Coeliacus
. At the time, Tool members were outspokenly critical of file-sharing networks in general due to the negative impact on artists that are dependent on success in record sales to continue their career. Keenan had this to say during an interview with
NY Rock
,
"I think there are a lot of other industries out there that might deserve being destroyed. The ones who get hurt by MP3s are not so much companies or the business, but the artists, people who are trying to write songs."
A month later, the band revealed that the new album was actually titled
Lateralus
. Rolling Stone wrote in an attempt to summarize the album that
"Drums, bass and guitars move in jarring cycles of hyperhowl and near-silent death march... The prolonged running times of most of Lateralus' thirteen tracks are misleading; the entire album rolls and stomps with suitelike purpose."

Tool - Schism
Drummer Danny Carey sampled himself breathing through a tube to simulate the chanting of Buddhist monks for
Parabol
, and banged piano strings for samples on
Reflection
.
Disposition, Reflection
, and
Triad
form a sequence that has been performed in succession live with occasional help from various tourmates such as
Mike Patton
,
Buzz Osborne
,
Tricky
, and members of
Isis
,
Meshuggah
, and
King Crimson
.
The title track,
Lateralus
, incorporates the
Fibonacci Sequence
. For example, the syllables of the lyrics follow the Fibonacci pattern, and the time signature of the chorus rotates between 9/8, 8/8, and 7/8 time, referring to the 17th Fibonacci number, 987. The theme of the song describes the desire of humans to explore and to expand for more knowledge and a deeper understanding of everything. The lyric
"spiral out,"
which is sung repeatedly throughout the song, refers to this desire and also to the Fibonacci Spiral, which is formed by creating and arranging rectangles for each number in the sequence's 1,1,2,3,5,8,... pattern, and drawing a curve that connects to two corners of each rectangle. This forms a never-ending and infinitely-expanding spiral.

Tool - Parabola
10,000 Days & The Future
The album opener,
Vicarious
, premiered on U.S. radio stations on April 17. The record followed on May 2, 2006 in the U.S. and debuted at the top spots of various international charts. 10,000 Days sold 564,000 copies in its opening week in the U.S. and was number one on the Billboard 200 charts, doubling the sales of
Pearl Jam's
self-titled album, its closest competitor. However, 10,000 Days was received less favorably by critics than its predecessor Lateralus had been.
In an interview conducted in May 2007, Justin Chancellor stated that the band would probably continue their tour until early 2008 and then
"take some time off"
. He qualified this statement by adding that the band has already written new material and would surely release another album at some point down the road. A possible project until a next album is to make a
band movie
, a possibility the band has reportedly considered for a long time. The ideas range from
a narrative story in a surreal fashion with as much money and special effects as possible
to
pockets of all of that or something that's live or the band playing
.
On hiatus since early 2008, Tool is expected to begin writing a new album sometime this year, according to Keenan, but no details on a possible release date.
TOOL is:
* Maynard James Keenan
–
vocals
* Adam Jones
–
guitars
* Justin Chancellor
–
bass guitar
* Danny Carey
–
drums
Former members
* Paul D'Amour
–
bass guitar
Check out their official site (and their hilarious biographies)
here
.
Support creative artists and buy there albums
here
.
I recommend checking out: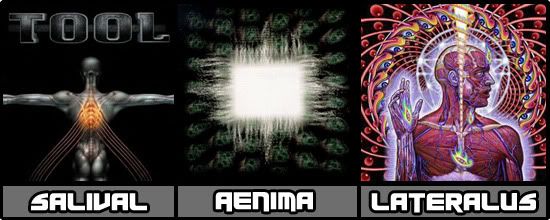 Tool - Vicarious
Much love Destructoid, I hope I pleased your ear pussies.
Mr Dillinger
P.S - Thank Wikipedia for a lot of the information posted on here. Although I cut it down significantly, applied HTML and reworded some of it. They provided the brunt of the information I fed into you today.
P.P.S - Doubtful that the band will ever read this, but on the off chance that they do, I'd just like to thank em for everything. And when I say everything, they know what I mean.