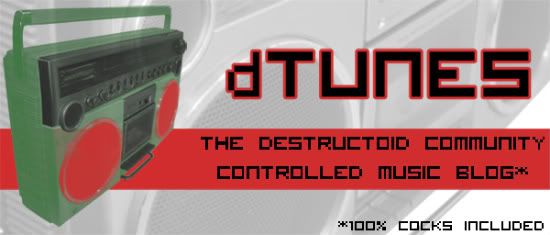 Being from Australia it is only natural that my first of the five musical acts I will be writing up for dTunes, is Australian. I'm not saying that the rest of the world doesn't have artists worth listening to. I'm just saying that not enough people know of some of the killer bands we have here.
Here are a progressive rock band with melodic overtones and a hint of dgent that have worked their way up quickly and gained much respect for doing it their own way, without sucking on the corporate penis to get there, I might add. I have had the pleasure of watching this group mature from a small musical act performing in pubs, to a headlining band performing in sold out, large scaled venues.
They truly are a band that deserve much more attention than they currently have in the world. So lets run through their story in a very brief but detailed manner, shall we?
Karnivool are a five-piece progressive rock group based in Perth, Australia that was formed by
Ian Kenny
in 1996, who at the time filled the roles of both guitarist and vocalist for the band while they played
Carcass
and
Nirvana
covers. Their name stems from the band being initially described by local fans as "a bunch of clowns". Their style of music can be classified as both
progressive rock
and
alternative rock
, with
alternative metal
undertones. Major influences of the band are
Nirvana
,
Radiohead
,
Meshuggah
,
Pink Floyd
,
Tool
,
Soundgarden
and
Carcass
. Critically hailed as being one of the establishing bands for the Australian progressive rock and metal movement, Karnivool are considered amongst the few in Australia's rapidly growing music industry to still be bringing new and refreshing material to their catalog.

Karnivool's latest single - Set Fire to the Hive
Themata
Their debut album was named after Themata, an old Greek word; the plural of Thema. A Thema is gut assumption or intuition about the workings of the world or life itself, a philosophy you can't prove with hard evidence, but something you instinctively know is right and are willing to back.
Singles released from the album were
L1FEL1KE
,
Shutterspeed
as well as the title track
Themata
itself. Although some (Such as myself) would argue that the highlight of the album definitely goes to its opening track
C.O.T.E (Center of the Earth)
. On a more personal note, Themata has been and will remain high in my favorite ten albums of all time.
In between the recording of albums throughout 2007, the band members worked on different projects but perhaps the most active of the five was lead vocalist Ian Kenny. Whom also recorded and committed to a national tour with his more commercially tuned
Birds of Tokyo
. He also contributed vocals to hip-hop artist
Phrase
for the chorus to the
Official Halo 3 Anthem
known as
Face It
.

Official Halo 3 Anthem - Face It by Phrase Feat. Ian Kenny
Sound Awake
After returning for the US, and completing their slot in the 2008 Big Day Out, the band headed back into the studio to write their follow-up to Themata. The new songs appeared to have a more mature vibe, but still bore resemblance to the band's other work. The album was one of the most anticipated Australian releases for 2009. The video for the single
Set Fire to the Hive
, confirmed by the band earlier, was released on the 9 May 2009.
Sound Awake was set to be released internationally in early 2010 however due to internet leakage the band decided to release it earlier than expected. Sound Awake entered and peaked 2nd on the ARIA charts, following this, just over a month after the release the band announced via their MySpace, Sound Awake had gone 'Gold'.
They are set to tour throughout the UK with
Skindred
later this year.

Dead Man - Performed Live @ The Metro, Sydney, Australia
Live Shows
I have been to see these guys perform more times than I can remember and they have always held up there end of the bargain when I pay for a ticket. There are many bands out there that rely on shock value or big spectacles during live performances to seduce a crowd and win over the live seal of approval. Karnivool are a band that rely on the atmosphere they recreate for the audience.
It really is gift to watch a band perform perfectly, delivering an ambient and entertaining set without the aid of overused sound manipulators and effects or overdrawn visuals that can often complicate a listeners perception of what they should be focusing on.
Of course many of my friends also attend their performances which ultimately adds to the experience. Especially when you all walk away feeling you have witnessed something majestic together.
Definite stand out tracks performed live are:
C.O.T.E, Goliath, New Day, Shutterspeed, Roquefort
and
Mauseum.

Karnivool - Shutterspeed
Karnivool is:
* Ian Kenny
– Vocals (also in Birds of Tokyo)
* Andrew "Drew" Goddard
– Lead Guitar
* Mark Hosking
– Guitar (Revolucion Street)
* Jon Stockman
- Bass
* Steve Judd
- Drums
Check out their official site
here
.
Check out their myspace
here
.
Support independent artists and buy there albums
here
.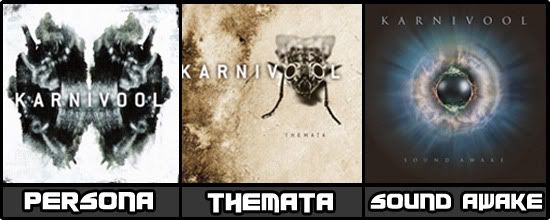 Karnivool - Themata
Much love Destructoid, I hope I pleased your ear pussies.
Mr Dillinger