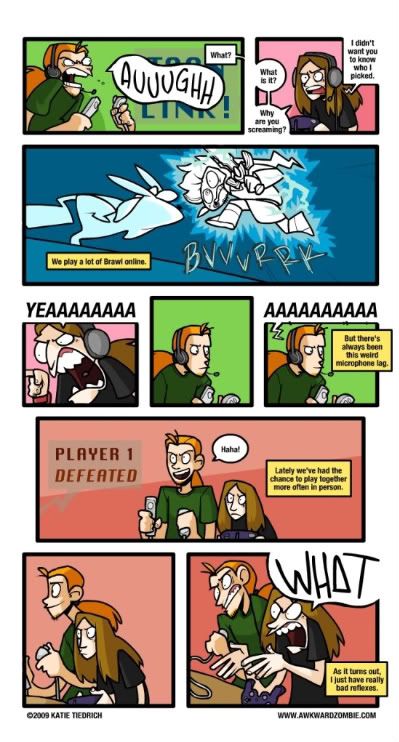 Another Awkward Zombie Comic. I usually try to pick other stuff, but SHE MAKES DAMN GOOD COMICS. WHAT CAN I SAY.
So there is this OTHER fighting game out this week which shall not be named. I've been playing it since wednesday, so why not TAKE A BREAK and play some awesome smash bros with us? It's easy, just follow the steps below if you are a noob to the fight, and you will be set.
ONE: GET SKYPE.
TWO: Copy down my brawl code and add it inside of smash brothers before the designated time of play.
THREE: Make a comment in this blog INCLUDING YOUR BRAWL CODE AND SKYPE NAME.
FOUR: Be online when it comes to the fight, and I will message you in skype when it's time.
We meet at 11:00 EST. My information is as follows:
Brawl Code: 0817-3428-3165
Skype: Ryuh89
IF YOU DONT HAVE A HEADSET: Get skype anyways. There's text chat and we can get you in the game without having to talk to us. But It would be nice if you had a headset anyways, cheap ass.
Hope to see you all tonight!