I know that the Sonic franchise has not been doing too well. It seems that many of its 3D games get a lot of flak, and the games are generally not reviewed well. The problems seem to range from bad gameplay, horrible stories, adding terrible characters, and bad voice acting. It's unfortunate that, with all the hate, people forget that there is at least one good 3D Sonic game produced this generation. And its name is Sonic and the Secret Rings.
Developer: Sonic Team
Publisher: Sega
Genre: Action/Adventure
Year: 2007
The story starts off with Sonic encountering the genie Shara. It seems that her world (which is contained with in the Arabian Nights book Sonic just finished reading) is getting erased by an evil genie called the Erazor Djinn. Not too long after entering the world, Sonic gets shot near the heart with an enchanted arrow by Erazor. Sonic must now collect seven World Rings, or his life is forfeit. The story itself is told as if someone is narrating a book. It's not particularly great, but it is passable.The only problem is that the characters are largely annoying, with the only bearable one being Shara (she does get annoying sometimes).
The levels look really nice.
Gameplay wise, Sonic and the Secret rings manages to capture the feeling of speed that his 2D games had, to an extent. You'll often find yourself speeding through levels, utilizing the rails and even enemy placement to progress even faster. Sonic moves forward on his own, and you can tilt the Wiimote left and right to control which side he moves. You can also make him jump with the 2 button, and make him stop with the 1 button. Sonic also has a homing attack, which is done by "pushing" the Wiimote forward during a jump. Up and Down on the D-pad allows Sonic to access to his Speed Break (increased speed) and Time Break (which slows down time). Speed/Time Break require a full Soul Guage to use, which will inevitably fill up as you go through a level. While this allows for easy play, sometimes you'll wish you controlled his forward movement. God help you if you need to head backwards, as the camera is always behind Sonic, and makes it hard to see if you are going towards a hazard.
The levels themselves tend to have multiple missions, with various objectives. The first mission of a level is just to make it to the end. After that, you have various missions that range from a timed run through, to collect a certain amount of rings, to even boss encounters. While they aren't particularly impressive, there is a bit of variety to keep boredom from setting in.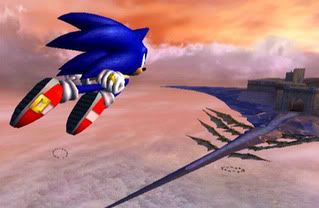 The floating ruins level not only looks great, but has a killer BGM.
As you progress through the game, Sonic will gain experience and level up. As you level up, you get access to more and more skills to set on him, and these will give him various passive bonuses. These can range from a speed increase, to chaining homing attacks together. Skills can be equipped before every mission, and there are skill rings that allow you to have a preset skill set so you don't have to go looking through the list after every mission.
Sonic also manages to have some really nice graphics. The textures used look eally nice, and they certainly did not skimp on the presentation. Level are large, detailed, and very "busy". One noteworthy level is composed of ruins floating through the air on a bunch of manta ray like creatures' backs. It is a beautiful level, and a personal favorite of mine.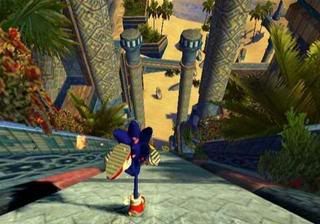 You'll often find yourself blazing through the levels.
Sonic doesn't fare quite as well in the audio department, but that doesn't mean it is bad. Most of the songs are pretty good, and fit very well in the level they are presented in. Voice acting, on the other hand, is pretty bad. Many characters have pretty annoying voices, with Sonic and Shara being the only ones that are bearable (it seems the guy playing Sonic gets a bit better after every game. But he is still nowhere near good).
In terms of length and extra content, Sonic fare decently. There is a multiplayer party mode you can access, and can be played with Gamecube controllers. It's a decent distraction, but it won't hold your attention for long. The single player element, fortunately, is pretty long and can hold your interest for quite a while.
In the end, Sonic and the Secret Rings manages to be a solid, and fun entry in the franchise. While not perfect, it's strong points manage to easily eclipse its weaknesses. It is proof that there is hope for the Sonic franchise, and is definitely worth a purchase.
My rating:
8.5/10