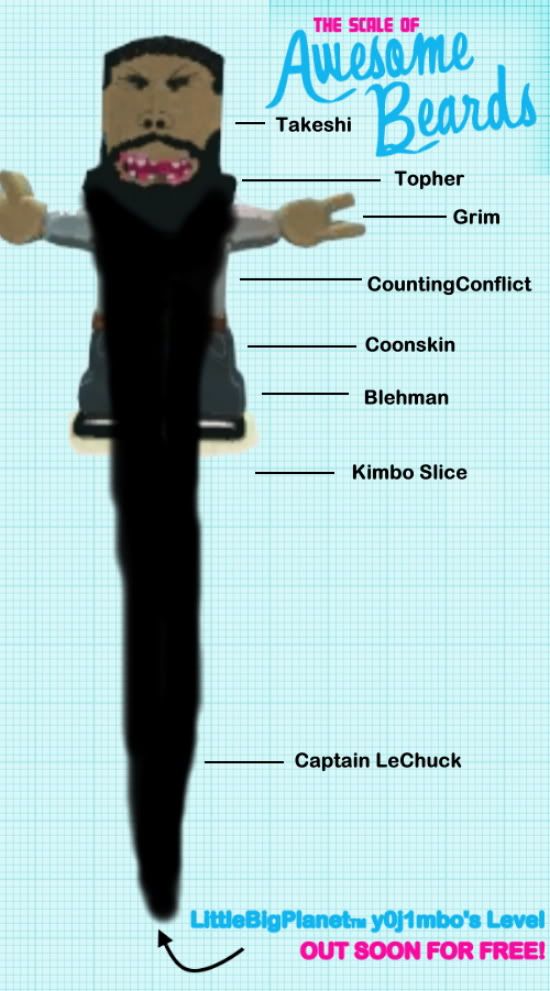 Stole it here.
Before we get to the point of this blog I need to tell you a little back story.
Back when LittleBigPlanet was released I created a level called
Sackville Shop-n-Drop
. It's about this mean villain called Doctor Undie. He wants to take over the world by dropping dirty underwear all over the place. He constructed a cannon that shoots vile underwear out of it's barrels. Underwear with poop and pee stains. A rather nice effort if I might say so myself. It has a character and a story and a pretty good level design. Could be a lot better though. Some people got stuck because they didn't read. You need to take a pair of
clean
knickers with you to defeat the evil Doctor Undie. Some people didn't get that and I wasn't very good at giving people the option to go back and get it. It was only my first level you know. Some people haven't even created one! But I've learned from my mistakes and recreated the website you're looking at right now. But I'm not gonna brag about it because I think it could've been even better. While creating stuff you'll eventually learn a lot of new tricks. So some people liked it and some people didn't (aj2good4you2 for instance wanted his money back! Can you believe that?! You bastard!)
There is one little feller though who absolutely loved the dirty underwear. That young chap is none other than Y0j1mb0's son. He begged me to make another level containing dirty underwear. A lot of times when I was chatting on the PS3 with the Old Man I heard a voice in the background saying "Tell him to make a new level!" He also kept sending me messages on the PSN. Which were much like the messages his dad sends: "U ME LBP NOA!" I feel truly honored that this boy loved my level so much so I had to make him a new one. And that's what I finally did.
The level is made for him personally but I wouldn't write a blog about it if I didn't also think it would be quite enjoyable for everyone. For instance it features The Old Man Jimbo himself. Basically your character, the Sackboy you play with is Jimbo's son and you have to do something. I'm not gonna spoil what that is of course. But I will tell you one thing. I think you might remember Jimbo's blog about
A Real Gamer's Game Setup
. I recreated that particular setup in LBP-style. Which looks a bit different in the final version but you'll get the idea. (in-game pics kind of suck because they're too damn small)
I've just published it and sent the boy a message. I've been watching the game he plays and he's been playing my level now for about an hour. So there are 3 options:
1.
He fell asleep so the level sucks big time.
2.
He got stuck so the level sucks big time.
3.
He loves it so everything worked out well.
Who knows? I guess I'll find out soon enough. Now why don't you give it a spin and decide for yourself?
The level is called
Sackburger(TM)
and my PSN name is
JohanHin
If you decide to play it you should really take your time. It's not about getting points or anything like that. It's for you to enjoy. Oh and sorry Shipero, I didn't use any overpowered rockets. For shame!