Because. I. Said. So.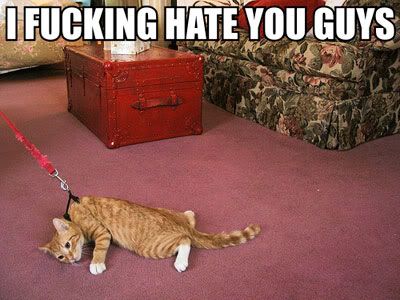 I cannot understand why people are so unbelievably up in arms over the two games and the desire to make a huge to-do over it. What
Prototype
and
inFAMOUS
attempt to do are complete opposites from one another. Aside from the fact that they are both open world sandbox games with a gruff-voiced lead who involuntarily become something they never asked to be, the games play in a way that completely counter-act to the other title. That's not to say that one is better than the other, but to say that the games should not become a cock measuring contest as to who's gaming system is better.
And yes, that is what this really comes down to, yet again. Which is better, the Xbox or the Playstation. Bear in mind
Prototype
is not a console exclusive to the 360. It seems that the hidden agenda with these community blogs and comments speaking out on how horrible it is that
inFAMOUS
is better than
Prototype
is less about the games and more about the constant, never-ending battle of which system is better. and that, my friends, is petty fucking bullshit.
I have not gotten the chance to play the full game of
inFAMOUS
because I don't own a PS3, but I have played the demo, and read the comic. Although I would most likely prefer the story of
inFAMOUS
over
Prototype
's, I prefer the gameplay of
Prototype
over all because, quite frankly, I like running around and being near-omnipotent in video games. That's the whole reason I play games, to escape reality.
inFAMOUS
is no different, aside from the fact that they try to make the game be a tad more realistic than the world of
Prototype
and oh my fucking god what the hell am I doing.
I started out wanting to write a blog about how the two games should
NOT
be compared, and I go on for over three paragraphs doing just that. Let me restart-
ahem
PLAY THE GAME YOU FUCKING LIKE. IF YOU PREFER A STORYLINE, PLAY
INFAMOUS
. IF YOU LIKE BALLS TO THE WALL PSYCHOTIC GAMEPLAY (a la
Hulk: Ultimate Destruction
) THEN FOR CHRIST'S SAKE PLAY FUCKING
PROTOTYPE
.
Or, better yet, play them fucking both. If you have a PS3, you should be able to do this with ease. If you only own a 360 (like myself), then get some friends and force them to let you play it. Once you've spent a decent amount of time in both, decide which one you like more.
And then keep that fucking opinion to yourself.
In the end it should not come down to which game has better story, which game has more fun, which game is a fucking system exclusive. It should come down to what you enjoy is what you like, and in turn, what you continue to play. Don't get insanely offended because Jim Sterling didn't like such and such as much as you did, because that is one man's opinion, and you should not expect them to change that just because you don't agree. Nothing Jim Sterling says can sway your opinion on the game, so what makes you think anything you have to say about it will sway his?
We're all forgetting one of the key rules that this website and it's community was made upon, and that was:
Each and every one of us on this site have an opinion and judgment on every single fucking game, and much like snowflakes, they're all different. Instead of fighting over consoles and games, let's just
FUCKING PLAY THEM
.
And maybe occasionally meet up, have a few beers together, and not hate each other just because we didn't like the grade of 6.5.
Don't like it? Fuck you, it's my opinion, which I happily give 11/10.