Magic the Gathering: Duels of the Planeswalkers will be hitting Xbox Live's virtual shelves tomorrow, so don't forget to pick it up!
DotP is a virtual version of the Magic the Gathering trading card game that will only run you 800 MSP ($10) when it releases tomorrow. Unlike Magic: Battlegrounds, this game will play like the actual card game (not volleyball with spells) and unlike Magic Online, it will only cost you $10 to gain access to all the cards in the game (and not $4 per booster pack). There will be DLC in the future, but they will be one-time purchases that add a number of set cards to your game and not random booster packs.
Here are some of the reasons the Magic players out there should pick this up:
-Single player campaign vs. AI opponents
-Cooperative (two-headed giant) campaign vs. AI opponents (Play with a friend in the same room!)
-Online two player, online cooperative (two-headed giant) play, as well as 3-4 player online free-for-all play
-Puzzle mode, which throws you into specific play situations that you must win from
-280 cards available, featuring cards from Invasion all the way up to Shards of Alara
Of course, this game isn't just for veteran Magic players. If you're interested in playing Magic at all, DotP is a great way to learn:
-An online tutorial, allowing you to learn while you play
-A mentoring system to provide live assistance
-In-game hints, an in-game rule book and glossary
Of course, the game is not without flaws, but (in my opinion) they're minor ones when I think about how cheap the game is and how much fun I'll have playing online with my Dtoid buddies. For one thing, the deckbuilding is a bit crippled, only allowing you to change a select number of cards out of a number of premade decks. So you can't quite build a new deck from scratch, but you will hopefully have access to enough cards to make your deck play the way you want it to. While this and the limited card pool (280 cards out of 15,000+) may be upsetting to seasoned Magic players, it's pretty understandable that they'd try to cripple the game in order to keep interest in Magic Online (in which you have to buy individual cards and boosters).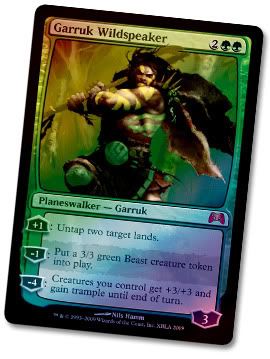 Of course, one of the biggest incentives to players of the card game (and possibly to those who want to start playing) is the promo
Garruk Wildspeaker
card that will be sent out to anyone who buys the XBLA game and enters the in-game code on
this page
. Garruk is a pretty damn good card (it's a rare that goes for upwards of $15), so you're definitely getting your money's worth. (BTW, I got a few "WTF is a Planeswalker" comments last time I posted about this deal, so
here's a link
to the Planeswalker rules for those who are unfamiliar with the card type).
All in all, I think it's going to be pretty fun and I'm hoping some of you out there will give a try, too. Be sure to at the very least try the demo when it goes live tomorrow!