Most students filled their studio with paint and canvas, I just lugged my imac up every friday.Also, Ghetto setup.
So, this year was my last at University. As part of my Honours degree I applied to a special course in which a few students were granted residency at a local gallery - pretty awesome, and a lot of fun. Students are free to create what they want in this course (based on their applications from the previous year) and this is where I created my
art games
but that isn't what this post is about.
At the beginning of the year instructors wanted us producing art right away (last year's group was not so productive I guess) and so they gave us three options to cover for the first three weeks; Text, Event, and...Well I can't remember... at all. Anyway, this SNES installation was what I called an event.
It's super simple in it's concept. A personal recreation of a pivotal event in my life - beating Super Mario World.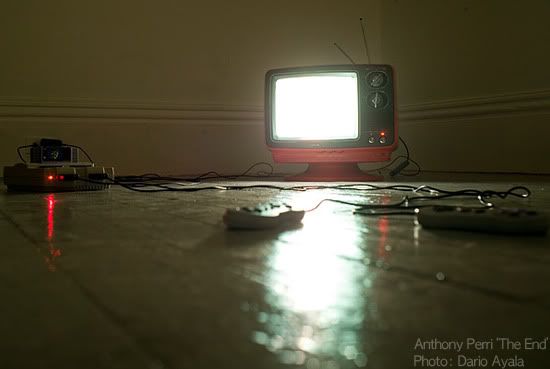 Yep, this is where my Banner comes from. Photo by Dario Ayala, another student in the class.
So basically the story goes like this. Before I was 10 years old, I can't remember exactly when, I got an SNES and Super Mario World for my Birthday. I must have begged my parents for one after playing at a friends because before that I had no knowledge of Videogames or Nintendo or anything like that. Super Mario World was the first game I beat and to kid under ten who had never played Videogames that is a pretty oustanding moment. Emotionally I was sort of torn. I was so proud of my achievement, I was so happy that I saved the Princess, but I was sad that it was over and, more importantly I was terrified to turn the thing off.
The way I saw it was that after months of playing the game my adventure had finally come to an end, I had resued the princess, the evil bowser had been slain and then I got to the 'THE END' screen
This is where it leaves you. I thought it was SO AWESOME that the sprites I had been controlling were now blown up and detailed and addressing me! I thought that I would never see it again because the journey had been so long. I didn't understand, or care, that the game was a program, that I could do this again next time I turned it on, it was far too real to me at the time and I left that TV on for 3 days as a reminder, as a precaution.
This is where the installation comes in. As you may have read on my side profile thingy I've come to really appreciate retro games and this moment being so potent to me seemed like the perfect way to start my development of Videogame based art, a reflective piece.
I set the old school TV up on the ground and the night before the critique brought my brother up to the studio and we played through the game in under 3 hours. I was amazed at how much we remembered at how fun it was to relive that with him. We would laugh for no good reason, a bad jump, a memory of a level or enemy. I wanted to fill the room with that same energy from the mid-90s and I think I was successful in doing that. Once we reached the end we dropped the controllers, shut the light and left the gallery.
When I got home I decided to add another level of my childhood gaming experiences to the work, music. The music played from a closet in my studio very faintly. I downloaded a midi of Super Mario World's title music and edited it's tempo and instruments to come up with this lullaby sounding rendition,
HEY LISTEN!
[also, hit Download for Free near the bottom of the page.]
What this represented was a strange phenomenon that I'm sure isn't unique to me. I didn't stop playing games when I went to sleep. I would constantly dream of gameplay. A typical scenario would have been dreaming the ending to a game, I did this with Super Metroid. When I woke up to find my brother playing the game I'd ask. "What are you doing we beat that already." [as if returning to a beaten game was against the rules...] to which he would respond with confusion...I'd figure it out and we'd have a laugh. But I thought you would all enjoy the score to the gameplay in my dreams.
It was a really great experience and I would be lying if I said that I didn't get emotional during the production more than a few times. It really has been one of my most meaningful, personal works to date and one that had an unexpected affect on me.