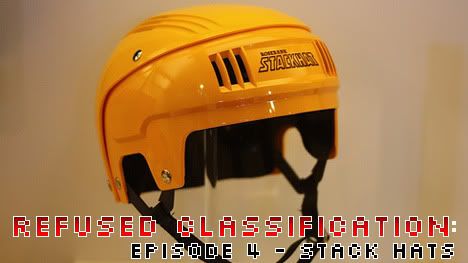 Ugly... and awesome!
Well we're back, and in true aussie fashion we are
fucking
late. Oh well, I'm sure our one fan will be consoled by the fact that this may possibly be our most Australian podcast yet, if only for the mention of Stack Hats. If you don't know what they are you led a deprived and sad life.
Anyways, on with the show!
Shit we talk about:
- STACKHATS!!
- We love old school games
- Silent Hill Homecoming, it aint no 5
- Sam and Max = God
- Scratch that, Mike Patton = God
- Duke Forever, RIP
- Ahhhh,
that chair story
.
- We get pissy about Ghostbusters, then at eachother
- Where the fuck is our MvC2 demo?
- The RC Spotlight: Tits in games. Seriously.
- Dillinger Drops his phone number again. Somebody call the bastard.
- Listener questions yaaaaayyyy!
- AnimuCast!
- I know too much about Luchadores
Intro Music: Bionic Commando: Rearmed OST - Power Plant
Break Music: Selkies the endless obsessions - Between The Buried And Me. 8Bit Version by
xtwilightxxprincessx
Outro Music: Bulb - Illustrated 8 Test
Download the podcast HERE
(58MB)
NOTE: We're using archive.org for the time being to upload this episode as mypodcast.com is a cunt. We will also have Refused Classification Dtoid profile up and running soon so keep an eye out or I'll put your eye out.