Holy shit I can rhyme.
This past weekend, in the lovely city of Louisville, KY, I attended my first sci-fi movie convention, a little event called Wonderfest. Earlier this year, my parents decided we should go on another family trip, since our last one was 5 years ago, and it was a trip to the most depressing place on earth, Shipshawana, Indiana. And this is what my parents came up with. Yes, I have gigantic nerds as caregivers. Anyway, i decided to come along becuase, hell, even though I'm not the biggest buff of sci-fi and horror movies, i could at least get a kick out of seeing the people walking around. And maybe, just maybe, I could find something game-related.
For those that have never been, Wonderfest has 2 big components to it: 2 halls containing all kinds of vendors selling everything from old action figures to comics, hard-to-find horror movies to garage kits, and everything in between. The other component is the yearly model competition, where figure modelers from around the country show off their best work from the past year. Let's start there, shall we? Here's a host of some of my favorite models entered:
Hellboy
Edgar from Men In Black (Vincent D'Nofrio FTW)
Big-O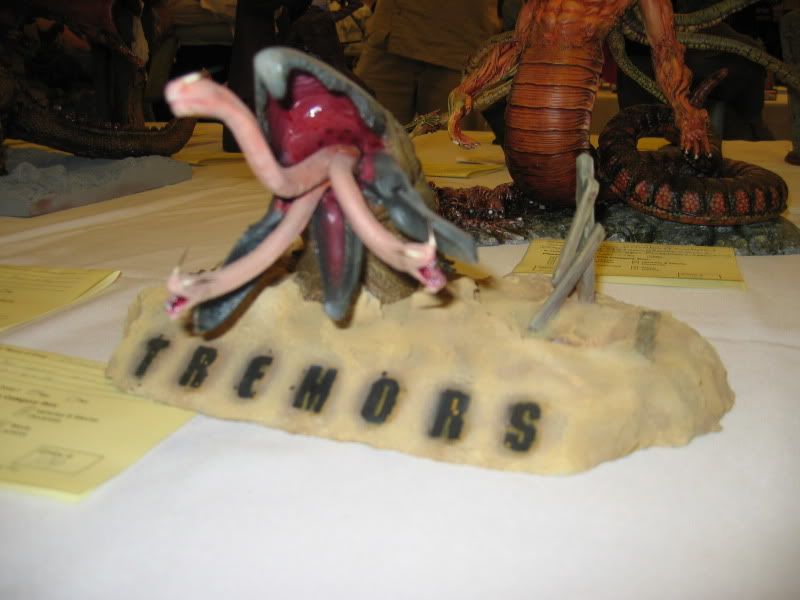 The worm from Tremors
A Predator with a fresh Xenomorph skull
Now, as I was walking around, I was just enamored with all the amazing models and everything, but I felt something was missing. That something was videogames; if this is a sci-fi and horror fest, why aren't games represented? Oh, they were:
I think we all know what this is...
By far my favorite model, Kratos
Pure awesome right there, folks. Now, let's move onto the vendor's section. This was fun, because aside from the vendors, the awesome costumed people like to show up in this room. Awesome costumed people like this:
Iron Man, damn well done...
...and his buddy, Batman. Seriously, they came to the show together.
2 of the various Troopers around
My Mom and a Xenomorph (best costume I saw)
Boba/Jango/Something Fett. Anyone know who specifically this is?
And, once again, when I didn't think games couldn't be represented, I got a nice little surprise:
And so did that little girl.
Finally, I found one last game-related thing that made the entire trip worth it. Along with vendors, the 2 rooms had visiting artists and actors from various horror/sci-fi movies (including the chick from Lost in Space and the cast of The Lost Skeleton of Cadavra). As I was making my way through one of the rooms, I was stopped dead in my tracks by a familiar picture, one I'd never thought I'd see at something like this:
That, for those that don't know, is the concert poster for the final stage in Guitar Hero 3. Where did I see this? At the table of one
Jeff Gaither
. Apparently, Jeff is this amazing, well-known artist who was commissioned by Harmonix to do some art for GH3. Along with this, Jeff did the concert poster for the opening level and various pieces of art throughout the game. Interestingly enough, if you look at the poster in-game, his name is on it. This isn't so with every other artist in the game: Jeff would only have his work in the game if his name was attached, which isn't common practice in GH games. But, for him, it is. So, I now have a large autographed print of that concert photo and the other one he did for the game.
For being my first big convention I've ever been to (I went to a smaller anime convention earlier in the year), I had a god damn good time. I got to meet some cool people, see some amazing artwork, and visit a great city I've never been to before. If you happen to live in the area, or have any interest in stuff like this, I highly encourage you to go next year, 'cause God knows I'll be going!