Posted by:
Ryan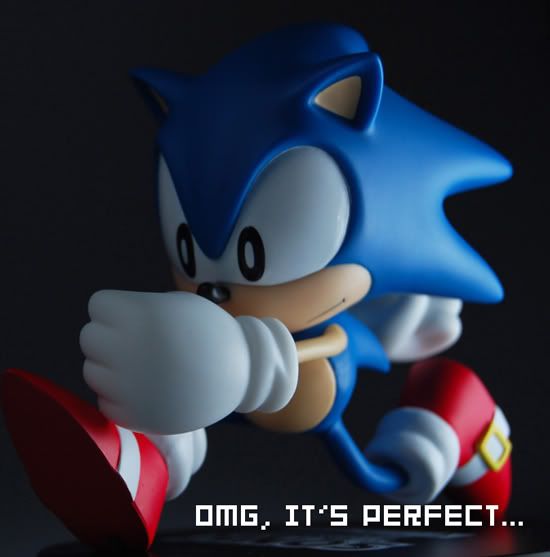 I found this figurine sitting in a shop down in Little Tokyo, and I immediately knew I had to own it. I still have my old Sega Genesis hooked up to my HDTV with
composite cables
, and I still play Sonic 2 every now and then. My sister prefers Sonic 3 & Knuckles, so we bust that out every now and then too. She didn't play games nearly as much as I did when we were younger, so I was always Sonic, and she was always Tails. It's a strange bond that we have, and so I couldn't
just
buy the Sonic figurine. I bought the Tails one as well, and it looks just as good as the Sonic one does.
What's especially awesome about this is that it's the old school Sonic. With Sonic Adventure, Sonic made a stylistic change where he stopped being round and he became really thin and lanky. And while the change certainly worked for the video games, all of the new style Sonic figurines look pretty atrocious. Not that there's a lot of them to choose from...
So I have to give it up to this company,
First4Figures
, whom I had never heard of before seeing these Sonic and Tails figurines, but on
their website
, they apparently also carry
Samus
and
Link
figurines as well, for those of you who happened to grow up next to a Super Nintendo instead of a Genesis.
My Sonic figurine is currently sitting right next to my Sega Genesis, and I love it to pieces. <3
.
.
.