At the start of this year, I made a promise to myself that I would complete at least 5 games a month. I have to say, so far its been great, its really brought my back to some classics I haven't played in years, or classics I haven't played at all.
I'm now 1/4 of the way through and this month I increased my goal to 6.
So...
DEAD SPACE
Xbox 360
This was the first game I completed this month. I got it quite cheap and heard it was quite well praised, so I gave it a shot. Although I'm not normally into survival horror, I did enjoy this game. The atmosphere was incredible and the story was better than I thought it would be. I'm glad I have opened myself to another genre of games with this. My favorite part was the last boss battle.
RESIDENT EVIL 5
Xbox 360
Next comes this. I'd never played a Resident Evil game before, so I read up on the history and went to buy it because it had Co-op. Yes I now hunt down split screen co-op games to play with a friend whenever I can (Any recommendations are welcome). Funny thing is, I didn't enjoy the demo, I nitpicked everything about it, the 'Standing still to shoot' stuff and all that. But I stopped looking at it as a gears of war and more of a unique experience in its self, and that's when I enjoyed it. Co-op was a blast, and both me and my friend enjoyed it.
My favorite part was... Well, I think this GIF describes it nicely.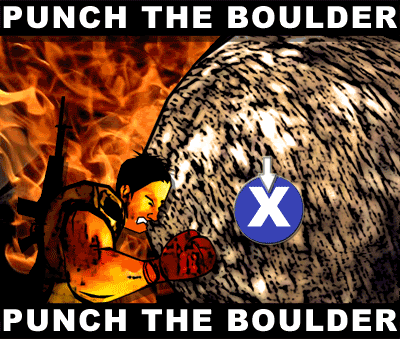 TIMESHIFT
PC
Saw this ridiculously cheap, so I thought what the hell, I need something to keep me occupied for Easter. It starts out quite good, the story seems interesting until you realize that there is no story. The gameplay it incredibly fun (Pausing time to exact revenge on an enemy never gets old), but the battles are very, very repetitive. and the last fight was terrible. But its okay, because I gave myself a running commentary of it throughout, it actually turned out quite fun. It was worth playing for the price I got it.
My favorite part was blowing up a platoon of 10 soldiers before they even had a chance to react.
HOMEWORLD
PC
The name of this game must have buried itself in my subconscious, as I saw in second hand for once again a cheap price. The premise seemed interesting, Exiles fighting through the galaxy to get back to their true home. I never thought an RTS would have such a moving story. The music was also brilliant with the gameplay intense. I now have some of that music on my MP3 on my daily commute to University. A Fantastic game.
My favorite part was the very end.
BRAID
Xbox 360
The first game this month that I have played before. Its been over a year, So I decided to to a second playthrough. Some parts I had forgotten about and it still had to made me think to clear some puzzles. I enjoyed it more this time because I was ready to think outside the box. If you could play a painting, this would be it. My favorite part was the last level.
HOMEWORLD 2
PC
After I finished the brilliant Homeworld, I immediately began looking for its sequel. The interface was much better and the graphics were superb (Considering it played on my Laptop). The story was disappointing to say the least and the gameplay was much more frustrating, I really had to think up new and complicated strategies to get those damn shipyards, brute force no longer worked. It turned out better once I began thinking like a military commander. The music was good, not as good as the first, but still nice. I enjoyed it, but I guess I compare it too much to the original. It's a great game none-the-less.
My favorite part was when I sent 20 Ion Frigates behind the enemy to destroy his shipyard, and watching him scrambling the tatters of his bombed forces backwards to try and defend it.
So, stuck to the 360 and PC this month and got a healthy input of new games I've never played before and old games I've never played before with a re-run of a great game. This month has turned out pretty well. I'm already thinking of some games to play next month. Cheap recommendations are welcome.
What have you completed this month?