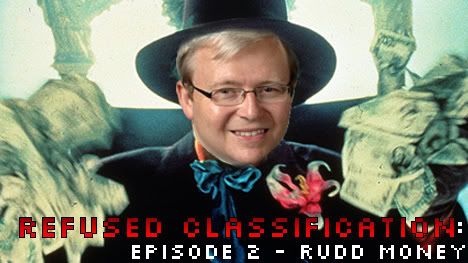 Those aussie cunts are at it again. Yep it's podcast time with myself,
DanMazkin
and
Mr Dillinger
.
So any of you aussies out there get paid up yet? What gaming crap do you plan on spending it on? Desperate times call for desperate measures, and there's no better time to pick up that copy of Pony Friends that you have been eyeing off. Go on, treat yourself. You've earned it.
Now keep in mind this is our second time and we still suck, so we'll probably mess us the sheets and the audio quality might be a little off in places, but we'll try to keep that to a minimum.
Shit we talk about:
- We are boring cunts.
- DanMazkin hates Pokemon
- GOOD SHOW!
- Cash-Handing-Outing
- We ain't spending shit
- Bioshock 2
- The Aussie Industry
- Hardcore, Casual and Tourists
- RC Spotlight: Catching God in a Pokeball?
- We remembered listener questions this time!
- A shameless ripoff of RFGO's "Dangale" joke
- Let's all give Mr Dillinger a big clap
Intro Music: Bionic Commando: Rearmed OST - Power Plant
Outro Music: Butterfingers - I Love Work
Download the podcast HERE
(43.72MB)
NOTE: Our podcast service (for now) is with MyPodcast.com and we only JUST found out that the pricks stick ads in the middle of the podcast automatically. Just ignore them and hopefully by our next episode they'll be gone. We apologise the the inconvinience and return you to your usual programming. BING BONG!