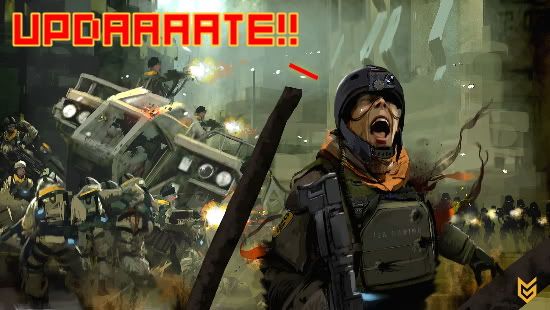 Hi there! Back again with some important Destructoid Killzone 2 Clan news.
The clan was overflowing with requests and invites. We've got 64 members and quite a few waiting in line. To give everybody the chance to join in our escapades we decided to split the clan into two. I split the list in half in an unorthodox way. "One for you, one for me, one for you..." It looks like we've got two solid teams right now. And you know what the good thing about this whole split-up is? Indeed, the two Destructoid clans can battle against each other! Valor points included. I'm gonna write a recap after every battle so you'd better make sure your team wins! Oh the sweet bragging rights you'll have. I'm looking forward to that! And if we're not playing against each other, we can play with each other. So nothing changes on that front.
IMPORTANT STUFF

Check out the lists below.
Are you in ALPHA? Cool! You don't have to do anything. Sit back and relax.
Are you in BETA? Get out of my blog right now! You're on Y0j1mb0's team! Expect a Clan invite from him.

We're recruiting for new members again. Leave me a PM or comment on this blog. We'll get you in. That's also by the 'one for you, one for me' method.

This blog will remain the Clan headquarters. Battle Recaps, News, Updates, Invites and Requests. Everything can be found here.
Now on to the new teams:
Meet Destuctoid Alpha and Destructoid Beta.

Destructoid Name:
Click on the link to go to the Destructoid profile of your choice

PSN Name:
Click on the link to go to Killzone.com and view the Killzone 2 profile of choice with all the stats of the player.
First names are the Leader and the Officers. After that everyone is sorted by PSN name.
It makes you go directly to your profile without logging in. Save a lot of time and to be honest the Killzone.com takes it's sweet time to get you logged in. These links take away half of the pain. So feel free to copy your personal link and bookmark it.
I'll update the table once a week. Until I find a way to auto-update it.

Check the table.
You found your name? Cool dude. Welcome!
You didn't find your name? I'm sorry. Leave a comment and we'll get you in.
Clan invites can be found under "Communication"->"Messages"->"Clan". It then shows you have one (or more) new clan messages.
Any questions, requests or other things? Leave a comment, send me a PM or a message on PSN: JohanHin.
Thanks very much for your time. We will see you on the battlefield!