After reading
this article
, in which lies the next
top secret
Nintendo advancement, which will allegedly stream a player hints in video form, solving puzzles for "stuck gamers," I became very nervous for the next generation of players. With the Wii, it felt like Nintendo was working hard to swat the stereotyping "gamers are lazy" fly, but now they appear to be feeding the fly our minds.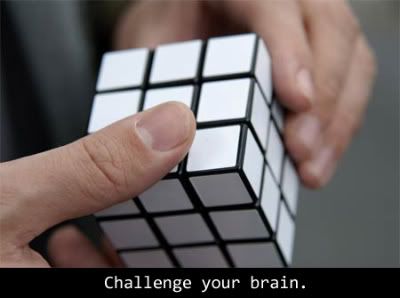 "
The patent hinges on a form of automated gameplay -- likely sequences pre-recorded by a game's developer -- that users can turn on, described as "digest moving image." For example, it could show a game's character navigating a level to reveal its solutions to stuck players -- or simply to allow players to experience it [the game] without investing the time for an entire playthrough.
"
Forgive me if I'm mistaken, but I seem to recall Nintendo's most notorious games are adventure/platformers. Adventure/platformers put as much an emphasis on gameplay, as they generally do on
puzzle solving
. Being someone who finds puzzles to be engaging, challenging, and fun, I would be very upset if someone sat down with my 6-year-old-self and showed me exactly how to solve a puzzle, or I were allowed to simply frame the puzzles box and take credit for the completed works. Stacking empty video game boxes on your shelf to show off would have a similar effect.
People need challenges so their brains learn, children especially need this type of mental stimulation, to start problem solving early on. Problem solving with most adults is difficult enough, but if our next generation just tapes a box to a wall to take credit for a job well done...well, we're in trouble.
Sure, there are people that become very frustrated with games (and are very frustrating to watch), but if they are to learn to play games, or in essence, solve their puzzles, they need to practice. People need to get stuck, so they can figure out how to get out of a situation – be it in video games, in the workplace, at school, etc. One of the best life lessons is failure, because "Why do we fall, Bruce?"
Many games have included their own hint system in the programing. Many of the hints are an optional "check this screen if you are stuck", but others are more , what's the word, irritating? When it was impossible to bypass some problem solving
fairies
. But to develop an entire system devoted to bluntly solving problems for you...Where's the sense of accomplishment that gamers crave, if they "solve" something by watching someone else do it, instead of trial and error?
As a 23 year old gamer, I have thus far avoided feelings of "Dern whippersnappers – why, back in my day we were happy with this, none of your fancy, shiny graphic thingies."
But if this new form of gameplay, where the game may actually play itself, I will likely take the geezer stance on games, and boycott the next generation a decade or so prematurely. There does appear to be an "off" switch to these helpful tips, but am I mistaken in thinking many people will take advantage of this system and abuse it to some extent?
Here's the
the legal Mumbo Jumbo
(the patent) for those interested.