Ladies and gentlemen, we have witness an unprecedented event in Cblog history:
The Weekend of Hug.
From all around the world, members of this community have gathered, for whatever reason, to discuss who they have hugged, and the consequences of those hugs. These hugs have led to everything from cum-soaked pants to time paradoxes, from dead men in Nevada to Sham-Wow spokesmen, from anti-rape Sonic to Meganís Law. Why they did this isnít really known: while Tubatic finds the root of the event, there are all sorts of reasons why people have posted these blogs. But, they have been posted in such a fashion, because, without a doubt, you are looking at the best goddamn videogame community ANYWHERE ON THE INTERNET. Be proud, huggers; the story of your blogs will be echoed through the ages. You have all been a part of one of the most beautiful moments I have ever seen on this site, and I thank you.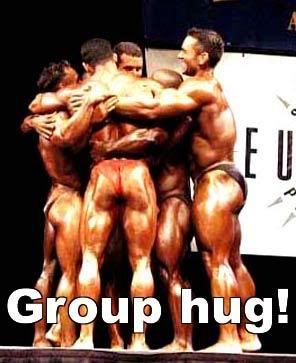 Finally, for a look at all the hug blogs, check out Muddy Waterz's amazing hug collective recap.