I always look forward to Christmas, family, friends, and new games. Alright so I'm being a bit materialistic but I'd be lying if I said I didn't anticipate at least having one new game to curl up with next to the fire.
This Christmas was awesome.
As you may have read here before- or in my sidebar... Retro games have sort of been given new life to me via RFGO. I've been aggressively collecting cartridges, mostly for my SNES and N64, but also for a system I never owned; the NES.
I've always admired the NES for what it did for the industry and, of course, for being the birthplace of a countless number of beloved franchises. I was born in 1987 and my first console was an SNES so I totally missed out on it's predecessor, until now.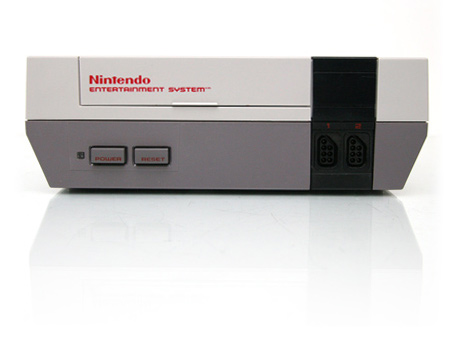 As I said before I picked up some NES carts (Mario, Tetris, Excitebike) and a gray Zapper for next to nothing at
Value Village
despite lacking anything to play them on. I had planned on getting an NES eventually but the ones I found were a bit expensive.
My Girlfriend is awesome.
This Christmas she totally surprised me, something she doesn't often do- as secrets tend to bottle up inside her like gas until they erupt out of one orifice or another. She got me an NES, 10 games, an orange zapper, and 2 controllers!!!
No written word could describe my excitement. It was a great moment. The games came with the system and there was a pretty good cross section from legendary(good) to legendary(bad). For example, Mario 3 and Bayou Billy. Galaga came with it, and Ninja Turtles 2! - just some high lights.
Love ya Ro. Thanks!