Hi! I'm Ian/4knuckleshuffle. I'm FIDEEN NOW BITCHES and your average stereotypical gamer. I like books, videogames, pen and paper RPGs, Warhammer 40,000, and other such indulgences. If this profile seems like my introductory post, that's because it is!
Avatar Origin: On my friend's forum, I changed my avatar one too many times, which pissed him off enough to set it to this and lock it. I've grown to like the image.
Brawl FC: 0559-6443-8754
Kingdom of Loathing Name: DagonEnHydra
Steam: shoggothontheroof
Looking forward to:
No More Heroes: Desperate Struggle
Diablo 3
Muramasa
Sin and Punishment 2
Resident Evil 5
BonerQuest
Samurai Shodown Anthology
The next Zelda
Favorite games:
Action RPG: Diablo II
JRPG: Earthbound
Western RPG: Neverwinter Nights
Tactical RPG: Shining Force
Action/Adventure: Zelda: Ocarina of Time
Shmup: Starfox 64
Horror: Resident Evil 4
FPS: Doom
2d Fighting: Samurai Shodown 2
2.5d Fighting: Super Smash Bros. Brawl
Puzzle: Tetris
Simulation: Blazing Angels
RTS: Pikmin
Racing: Mario Kart 64
2d Platformer: Super Mario Bros. 3
3d Platformer: Super Mario Galaxy
Parser Adventure: Escape from Monkey Island
Point/Click Adventure: Riven
Text Adventure: Leather Godesses of Phobos
Wii: No More Heroes
N64: Zelda: Ocarina of Time
PC: Diablo II
SNES: Earthbound
NES: Super Mario Bros. 3
GC: Paper Mario: TTYD
I Like Playing As:
Yoshi in Mario Kart
Toon Link in Brawl
Necromancer in Diablo II
Wizard in NWN
Luigi in any
core
Mario Game
Galford in Samurai Shodown 1 and 2
Mai in King of Fighters, due to boobs
Currently Playing:
Metal Slug
Samurai Shodown 2
Wii Fit
Phantasy Star 2
Metroid Prime
Shining Force 2
Maybe some other shit, but I can't remember.
Also: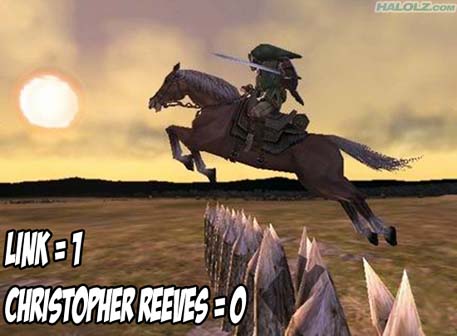 and