A while ago Dyson left Retroforce GO! without warning, and since then he has only been heard from intermittently. Soon after his departure there were hints dropped about his travels, but eventually the trail went cold. Recently there has been a flimsy attempt to convince the community that he has been busy at "work", a ruse that included a completely pre-recorded appearance on Retroforce GO!. That's right, Dyson's part on the recent RFGO! was recorded months before he seemingly fell off the face of the earth, and it has been carefully withheld in order to string us all along. No one has publicly revealed where Dyson actually is, or what he's been doing all of these months...
Until now.
You see I happened to find out what Dyson was really up to while I was traveling. I'm not sure that he would want me making this public, because he avoided telling anyone out of modesty, but fuck it. In the noble tradition of JOURNALISM and TRUTH; I must expose this farce.
You see Dyson has actually been setting up retro gaming schools for children in Africa. Awesome, I know. And even better yet: I took some pictures of his school in Zambia and scanned a copy of one of his flyers describing the schools curriculum. Check 'em out.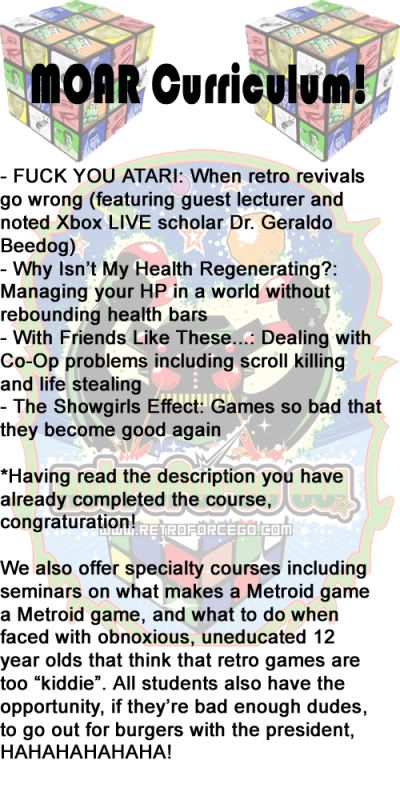 There you have it: undeniable proof, which was collected using both JOURNALISM and SCIENCE with a heaping helping of TRUTH, that Dyson Grigsby has been trekking the globe, trying to keep the Retro alive by making sure that the next generation of children appreciate the last generation of videogames.
Godspeed Mr. Grigsby. Godspeed.
Random quote... EXECUTE!
"Education is a progressive discovery of our own ignorance."
- Will Durant