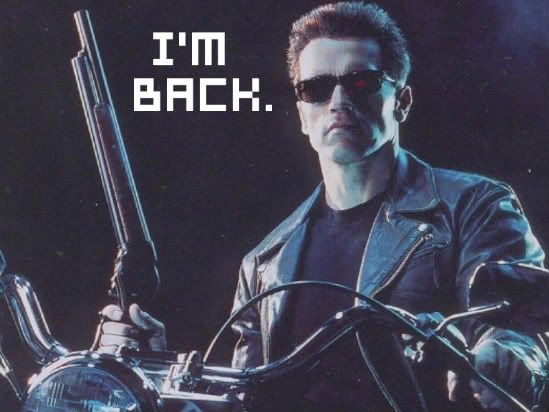 I'm back... reading the cblogs of Destructoid in all its totality and recapping them for your reading pleasure. Your usual Cblog Recapper, the gentleman known as Casual Weaponry, unfortunately couldn't make the proceedings tonight due to working overtime stripping at a gay club. Bring home that bacon CW! So since I'm your recapper tonight I thought I would use this opportunity to address my new gaming addiction. Now mind you, I have SOCOM:Confrontation, which actually works now and is quite a bit of fun, The Resistance2 Beta which is Epic, can't wait for that game now, and a ton of games that I have that I haven't even made a dent in. So what game has me in it's clutches so? Well it's a game that I have had for awhile and played for ten minutes and thought yeah, not bad but too fruity. May get to it later. A LOT of time passed and when I was pissed because I couln't log in the servers of SOCOM day one I pulled out this game and started to play it again. What game you ask? Oh, this one.
Dear Lord, I can't stop playing this game. It's a drug you see. What makes it even more ridiculous is I'm a 37 year old man obsessed with making friends, joining the track team, going to the club at night, having spicy ramen noodles with my girl crazy friend, trying to get the right answers in class when questioned, trolling Home Ec for a ghost, oh and battling these shadows, who are mucking up everything, that only a select few, like the Specialized Extracurricular Execution Squad (SEES), which I'm a part of, see at night and the rest of the population are oblivious to because they're transmogrified to coffins... WUT? Why did I have to really start getting into this game? I can't pry my hands off the controller. AAAAARRRGGHH!
Now that I have gotten that out of the way, let us take a closer look at what was before.
Spoiler Alert
: There were a lot of interesting, newsy, strange and plain fail things you may have missed.
*-Geoff wants to show you his Massive Retro Cock.
*-CONFIRMED: Aborto without his Pokeballs is a scaredy cat.
*-I want to have sex with these Arcade Sticks.
A-Perry Simm's Food For Thought.
A-Perri wants to tell you about FF III. You may want to sit down for this. Nice rant.
A-Rational Animal's take on AI with annoying monologues. Extra props for plowing through Haze. "Remember your promise to Merino!"
A-If PC game piracy is so bad then...
S-Halloween Movie Madness:20. The I should of FAILED you for not owning or seen the movie From Dusk 'Till Dawn until just recently.
S-Bonerquest 411. Check it.
S-Nihon Tiger asks us once again: What did you get this week?
S- I've come to the conclusion that Hoygeit can draw his ass off. Please draw me a bearded Samurai! Oh yeah, Media Monday: 10/20/08
M-The FEAR:The Dentist Splicer.
No Contests? I guess since it's officially Wednesday...you know what time it is..
E-Dtoider wants to sell her N64 w/games. You game?
E-Seasons Beatings III:Day Two.
E-I kinda hate it for Nihon that he had to actually watch Xplay for the E3 Revelation. And no it's not that Morgan is a man. That was confirmed a long time ago.
E-Chill with Christina and talk games.
D-NY Dtoid and their Upcoming Epic Weekend.
S-Ever wonder what to do with decaying pumpkins? Apparently BlindsideDork has given this much thought and offers you a rather interesting answer.
S-Benjaxez wants to tell you about his SAT tests.
S-grunchk1n loves her that new drum set for ROCK BAND2.
S-Darkair & Hamza would like to recommend this Little Tokyo Bar with slutty french maid dressed hos that cater to your needs in sprawling LA.
C-michiyoyoshiku is playing something aside from MM9? Holy Crap.
C-10 games to make the time pass until the 10pm announcement.
C-SilverDragon pops his 1000 point cherry.
C-Sucks to be you, meng.
I-Welcome to Destructoid, Walrus. MrSadistic loves you.
N-ATTENTION PEOPLE: Nihon Tiger has just Matlocked that, get this...Retro Studios may be working on something game related. Be still my heart.
N-Which Persona resides in you? Click here and find out.
N-xe-cute makes a tidy profit.
N-Was ROCK BAND2 40 bucks or Krahsh's really cute kid?
N-Dreamcast games still being released??
N-Left for Dead Achievements.
N-Fable II Fate Cards.
N-COD: World at War Beta, do you want one?
N-I loved Stranglehold. Forget the haters.
V-Perri shows us a peek at Hudson's new adventure game called The Calling. DO WANT.
V-Saints Row 2 Video Review. I gotta get this game.
R-Blehman reviews Lost:Via Domus and gives it a C7368/E289. I think some money exchanged hands for the glowing review rating.
R-Great Preview of Professor Layton, SurplusGamer.
R-MGS4 Review. A good very belated review.
R-Dead Space Review: Good Review, Lyfeforce.
R-Ugly Phil's closer look at Red Orchestra's ostfront-41-45.
T-What Brosef said.
T-So you buy games and don't play them? Let me introduce you to Necros. You two will get along real nicelike.
A-Art Dump:Week 8.
A-Matt's art kicks ass.
M-Freezepop?
M-Are you ready for Leftover Crack?
R-UK stuff is slow.
V-Best Trailer Songs to games?
F-And the award for SLOWEST game news reaching your person goes to...DRUMROLL PLEASE... AXION22! I would tell you to take a bow but it might take you a year to do so.
F-Not even RAB's Hot Chick with a bikini pic could save this from FAIL.
F-There's nothing in this world that I would prefer more than sitting around watching other people play games for 5 straight days. Sounds like a blast.
F-Marvel VS Capcom 2 for 100 bucks? LOL.
F-So InfernoBox21 here starts blogging again after a long while and what does he gives us? Yup, FAIL. Awesome.
Now if you'll excuse me, I gotta see what happens after saving a subway train infested with Shadows from ramming into another, as well as see if these roses I bought at the florist shop may be to Mitsuru's liking. I doubt it but damn she's hot. I know... I'm officially pathetic.
-Y0j1mb0 the Reservist