Okay, this is going to be a bit of a rant.
It will devour your soul and break your spirit.
That said; FINAL FANTASY III CAN GO TO HELL. I know that so many cherish this game, so many were so so happy that it has finally, legally reached the North American gamer. Was it worth it? Was it!?
I'm going to try to keep some composure during this blog but seriously, no.
Look, Its a good game, the gameplay remains classic, if-it-ain't-broke-don't-fix-it sort of JRPG fare that we all hope for from Squareenix. BUT, what the hell happened with the final boss. The game looses it's balance in the worst way.
I'm not the type of guy to complain about 'save points' being sparse or stupid, I think they may artificially raise the difficulty of a game but so be it. We deal ya? we deal. BUT (again) Getting from the entrance of the 'Crystal Tower' to the end boss takes about an hour and a half what with all the random battles and the 4 mini bosses. I'm not complaining about that part, no. BECAUSE I CAN DESTROY ANY ENEMY IN THE GAME WITHOUT TAKING CONSIDERABLE DAMAGE (INCLUDING THESE SUB-BOSSES).
Seriously. I have been grinding for a year in this god forsaken palace of glass and I just wish I could bring it crashing to the ground. I literally, have been grinding for A YEAR! Nothing can touch me at all. My first encounter with this end beast sent me home in 30 seconds.
Do you know what it feels like to endure a trek through an unnecessarily maze-like tower for almost 2 hours full of excitement and wonder, slaying the random beasts and struggling through the bosses to reach the glorious end only to be slain with not more than 3 foul swoops?
You probably do. I was pissed but I know this comes with the territory, and thus begun my year long journey of preparation.
Its a trap.
Lets take a step to the side so that I can tell you all about a less common problem. FREEZING. FREEZING?!
IT WASN'T ENOUGH THAT
SQUARE
FELT I SHOULD GO THROUGH THIS TOWER OVER 100 TIMES NO. LETS PUT IN A NEW SORT OF OBSTACLE. HOW'S THIS FOR INNOVATION: IF YOU OPEN ANY CHEST IN THIS WEIRD GASEOUS PURPLE AREA YOUR GAME WILL FREEZE AND THE LAST 3 HOURS OF YOUR LIFE WILL BE FOREVER SEALED IN THE SAME VAULT
SQUARE
KEEPS THE LIVES OF ALL THOSE GUYS WHO PUKED
PLAYING A BOSS FOR 18 HOURS IN FFXI
. BECAUSE SQUARE WASN'T HAPPY WITH MY MONEY THEY WANT MY SOUL!
I realize that it's CAPS but it feels so good.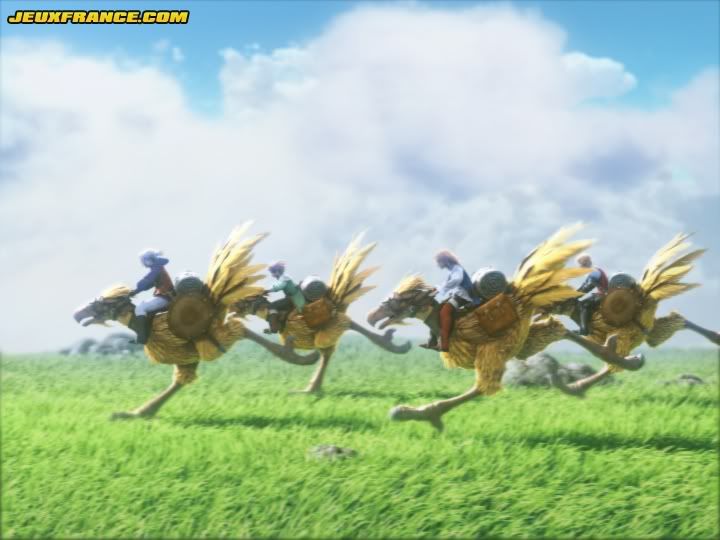 So. Where was I? Not that this blog is incredibly coherent anyways...Right- This game sucks and I hate it.
This game was brilliant. Really, I loved playing this game but WHY, WHY why?
My characters are all between level 64 and 66, job levels between 80 and 99. I have a Dragoon, a Dark Knight, a Sage, and a Ninja. THE TOWER IS A BREEZE NOW (as long as I avoid all chests) BUT I CANT LAST 5 MINUTES WITH THE LAST BOSS!
I've posted in the forums, what am I doing wrong? I got answers, some lame, some claiming that the game really wasn't that difficult. It sort of reinvigorated my interest and determination. So guess what, I went and played it again. I grinded for about 4 hours, saved, and then made my way through the tower, easy peasy. I FELT GOOD, Monsters were dropping at my command, the sub bosses were never easier. confidence CONFIDENCE!
Failure. 5 minutes. What? WHAT!?
And as if to add insult to injury, EVERY TIME I go through this I MUST withstand the same long cutscenes. Just putting that out there. By this time the story has gotten sort of lost, so my motivation if fading but I JUST WANT TO FINISH THE GAME AND MOVE ON (not to say that I haven't played anything since). I was really excited for FFIV- missed it. DQIV- missed it. BUT IM NOT GOING TO TAKE IT ANYMORE. SCREW YOU SQUARE, I WILL NO LONGER BE A VICTIM OF YOUR GAME, NO!
I'M GOING TO GIVE YOU MORE MONEY! TAKE THAT.
Ya, I'm moving on. That'll show em.
I'm writing this because I've never been beaten by a game, until now.
Listening to the latest RFGO, community member wonk (sp?) asked; "Has a boss in a game ever made you give up on a game?". SO YES, NOW I HAVE. AT THE LAST BOSS NO LESS, I feel your pain Colette.
Chrono Trigger can't come soon enough.
But seriously am I the only one who has come across this??? Maybe someday I'll come back to it, but not until I forget what I have endured.
A dark time has passed.