I brought this recently in GAME as part of a 3 games for £10 thing. Having played 'Enter the Matrix' I expected this to be in a similer vein.
The game spans the trilogy of films, and has you playing as Neo. The game seems to me to mostly be a scrolling beat em up. Sure there are guns in the game, but the dreadful controls make them near impossible to use. Rather I just dodged my way upto enemies with guns and then beat em up close range.
The game is quite long, and is split up with crazily edited footage from the films. Far too much of the start of the game is spent in stupid training simulations, but later levels are actually quite enjoyable.
There was a surprising amount of humour in the game. One level sees you fighting some bloke in a cinema while the Matrix is playing in the background, a man in the audience keeps shouting at you to get out the way of the screen. Another level starts with a American politician talking about violence in video games before getting swamped with violence. And just before the end of game boss theres a comedy interlude (compltly out of place) explaining why your going to fight a giant monster.
The fighting controls are cool, lots and lots of fantastic powerful looking combos and moves. The shooting controls are absolutly dreadful. The second you draw out your guns you auto lock on to any nearby enemy. Wrestle all you want but I swear it's near damn impossible to un-lock from the enemy. Even when they are dead you are still force locked onto the corpse, and the only solution is to put away the guns and then get them out again. This game really needed a free aim mode, rather then lock on only. There were several instances of being blasted in the face at very close range while I was stuck onto an enemy several miles away, annoying!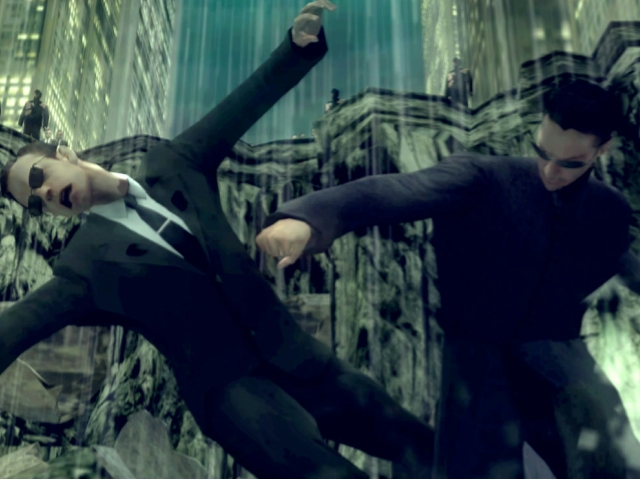 The Agent Smith levels are very fun, and especially the fantastic end of game baddie Smith, heh. But this game is about as fustrating as it is fun, so ok, but not great.