And I'm sure that in a month or so I will quit for the 6th or 7th time. I honestly can't keep track anymore. This piece will be more of conscious thought on my experiences past and present. I promise to include eye candy so as to not displease the "wall of text" monitors.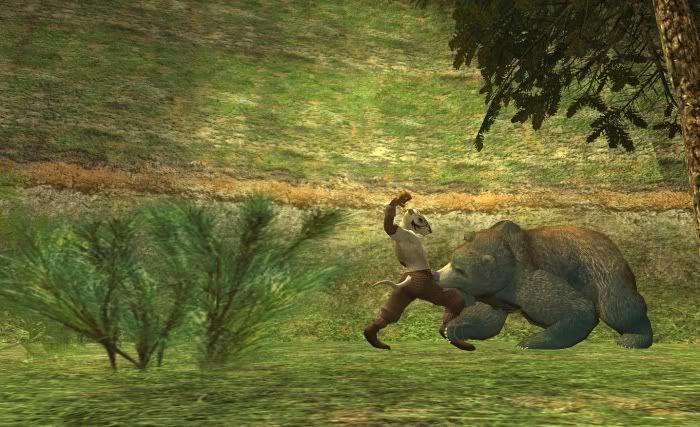 There is something about EQ2 that always seems to call me back though. Maybe it's because I actually have a pc that can run the game maxed out (without shadows of course) at a solid 45+ FPS. Maybe it's because my girlfriend got back in to it and started raiding again. It could be that I'm just bored.
The game does have quite a bit to offer though. Since its launch (when I started playing, actually I started in beta) the game world has seen massive changes. New content on a fairly regular basis, new quests, new soloable instances along with raid instances, new phat lootz to be had by all. Maybe this is what brings me back, maybe it's because every time I log in there is something new to see or do.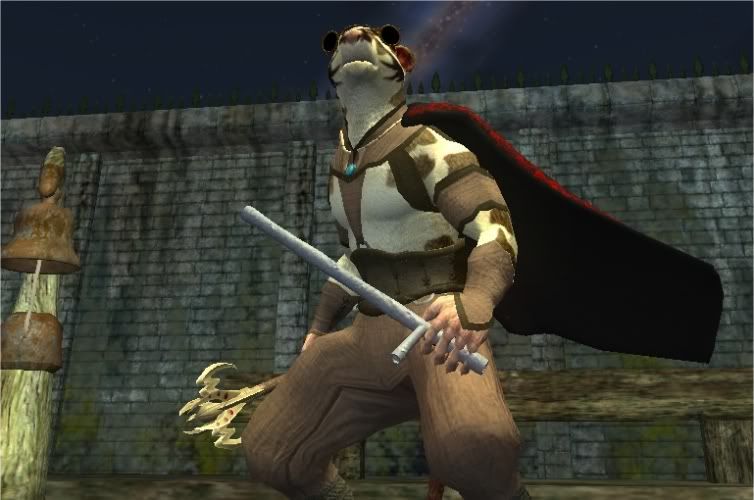 I started a guild 9 days after the game launched so as far as I know I have one of the oldest guilds on the server (Crushbone). The guild has seen its highs and lows. We raided end game content and broken up more times than I can count.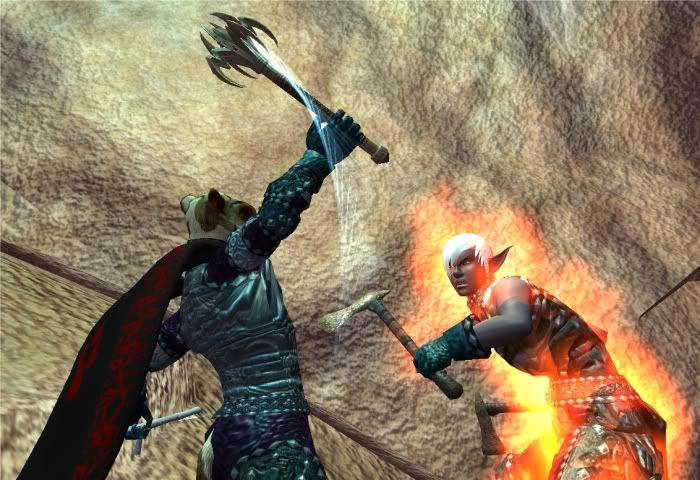 I know a lot of people were turned off of the game due to its ridiculously high system requirements at launch and I can honestly say that I don't blame them. Who wants to play a game that looks like liquid mud when you can go play a game like WoW that will literally run perfect on a 10+ year old machine? One thing I've always said is that if SOE would "rebuild" their in-game engine to take advantage of new technology such as quad and dual core cpu's than more people may return or even start new. It's sad that the game itself still runs poor on newer machines if they aren't built specifically for gaming. I mean, come on SOE you did it with EQ1, why not 2? I'm not asking for an entire graphics overhaul like you did for EQ1 I'm just asking that you customize your engine so that it takes full advantage of newer PC's.
So now we are on the eve of another expansion. Once again this will bring new zones, new spells, items, loot and quests. Will this help the game population? Will it bring more people in? Probably, for a short time anyway, then as usual the one's that came back to see what all the hubbub was all about will slowly start to dwindle away, bored of the new content, under-impressed with what the team over at SOE has to offer this time around. As for me; hell, who knows maybe this time I'll stick it out for the long haul, or at least long enough to get some toons to level 80 only to sell them on the Station Exchange.
Only time will tell.

If anyone reading this still plays, or is going to play look me up sometime in game. I play on Crushbone and I am usually on Mugg (Ratonga Bruiser), Sparkz (Gnome Warlock) or Necrotix (Sarnak Necromancer). If you want to just have some old fashioned power leveling fun then hit me up, I'll have my girlfriend and her 2 level 80's come along for the ride.
Also, Chickensack.