Look, it's really not that bad. Should you run out and drop 60 bones on it? I don't know, do you have 60 extra bucks to just blow?
I'm actually glad that I picked this game up. So far I've been having a blast with it. The armor choices are very nice; the colors used are vibrant and really stand out. The weapon choices have yet to get old and by the time you're done with the first mission you'll have so many damned items you won't know what to do with them.
The action is decent, as you move throughout the different levels you will come across waves of varying mobs all with weakness' that you can exploit, like the big dude with the hammer, sure his ground blast hurts but if you attack that particular arm from distance with lets say, a rifle then you can make sure when you get closer his giant hammer will no longer be anything to worry about.
I do admit that the targeting is a bit of a pain in the ass but it's really not so bad that it ruins the game.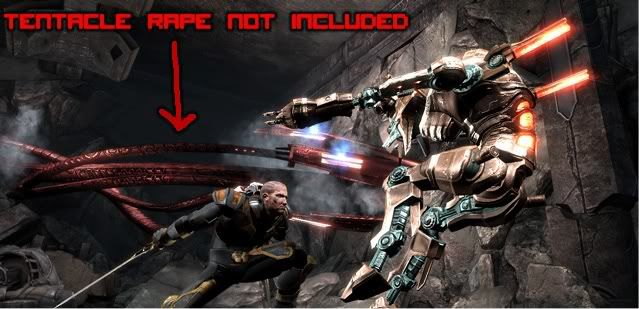 The voice acting is decent and the story so far has been pretty good. The levels are pretty massive and I think that a lot of you who may have tried the demo might get a blast out of some of the things you will see and come across as you progress through the game, especially the lil purple "shooters" that send you flying from level to level.
I guess what I'm trying to get at is that for all it's faults Too Human is actually quite fun and it would be a shame if people didn't pick it up just because of personal opinions about the guy who "made it" and by made it I mean oversaw the real artists and actors etc that make this game what it is.