I have a few new blog posts that are still in the planning stages but Microsoft's Xbox One reveal made me decide to visit the community earlier than planned to get a feel for the public's general consensus regarding the future of our industry. I've always used my blog as a way of organizing my most topical thoughts and the sense of foreboding dread I feel for the future of gaming has never been more at the forefront of my mind.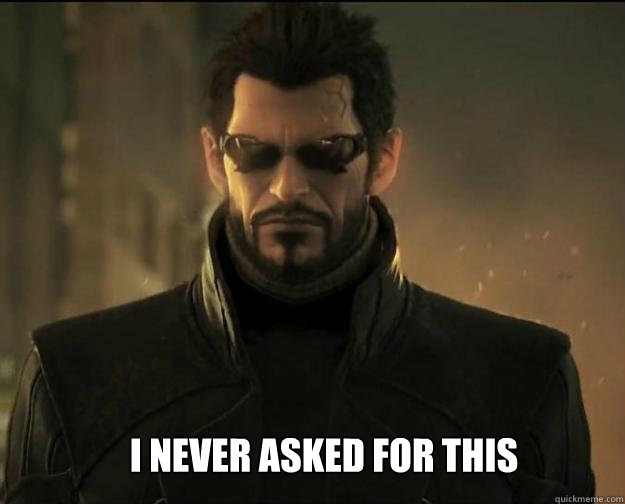 After the grand reveal of the Xbox One, the Internet's biggest personalities all wasted no time chiming in with their thoughts. The verdict is in and nobody is excited for what's coming next. I've been a gamer for almost two decades now and in that time I've seen dozens of console launches, no matter who the machine came from there was always
something
to be excited about. Admittedly the landscape for the console wars has changed since the mid-90s when there were significantly more than three machines to choose from, and with a current lack of competition Sony, Microsoft and Nintendo's underwhelming first step into the eighth generation is to be expected to some degree. They've become complacent and lazy, no longer seeing the need to win their audiences over. They expect us to follow blindly and wait for the games that will justify our investments.
When Nintendo unveiled the Wii U at E3 2011, I walked away underwhelmed. When Sony revealed the PS4 I was confused and Microsoft's Xbox One press conference has left me along with the majority of the gaming public a little angry. The gaming press, developers and publishers alike have been clamoring for a new generation for the past three years but the gamers seem perfectly content to stick with their current hardware. During the eve of the fifth generation I didn't know a single person who wasn't chomping at the bit to upgrade to a PlayStation, Saturn or N64. Fast forward to 2013 and gamers everywhere are filled with apathy towards their own favourite pastime. Why? Because the manufacturers are out in the wilderness shooting for the next big thing and Nintendo is aiming too low, Sony is aiming too high and Microsoft doesn't even know where to aim the business end of their rifle (at their head?). It's like they're all hunting deer and can't determine whether shooting at the birds or shooting at the fish would be the best way to bag a buck.
How do we make money again?
When did the idea of a dedicated device that connects to a display in order to play interactive entertainment become such a foreign concept?
That's what we want!
It may be funny now to watch these companies stumble around in mediocrity from one stupid idea to the next but what does this mean for us. We need to be very careful and very selective about how we spend our money in the coming year, more so than ever before.