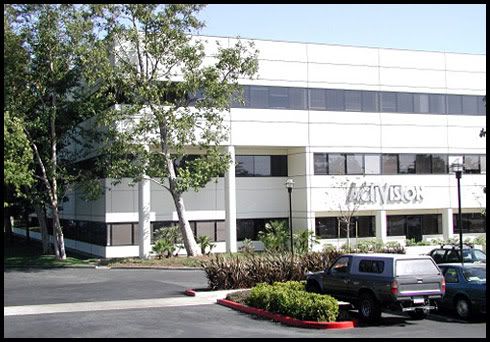 Imagine you are a video game developer. How would you feel about trying to develop a game for a complicated video game console to develop for and receive no recognition or any financial awards from your games no matter how successful they were? In April of 1980, Jim Levy and former Atari programmers David Crane, Larry Kaplan, Alan Miller, and Bob Whitehead founded the first third-party software developer company for video games - Activision - in response to Atari's negligence to their video game developers. While Activision is still going as a developer and publisher to
Call of Duty
and
Guitar Hero
, I'd like to share some brief early history on the company responsible for some of the best games on the Atari 2600.
History
In the beginning, Atari's coin-op division were the iron-fist rulers for releasing arcade cabinets that made far more money than it took to build them. While the Atari 2600 was available in 1977, it didn't share as much of the success the coin-op division had, and the software developers for the home console division were not making nearly as much money as the coin-op division. However, when Space Invaders was released in 1978 and subsequently ported to the 2600, the home console division began to take over. Many new software developers were answering ads in newspapers to obtain jobs at Atari. While there was plenty of stress for developing games, the new hires could be a part of an important time in video game history by joining the all-powerful Atari, earn some big cash and be acknowledged for making good games. Or so they thought.
In the early years of the home console division, software developers were not allowed to publish their names on the video games they made. Atari feared that developers might be auctioned from their competition if they released their names, as the Fairchild Channel F was actively competing with the Atari 2600 at the time. In addition, the software developers wouldn't make any real money off their game. A game would be published, fly off the shelves, Atari would rake in the cash, and the developer for that game would receive, at most, a pat on the back for all his hard work. In addition, both the home console and coin-op division felt that Ray Kassar, the new CEO of Atari (a replacement from founder Nolan Bushnell) didn't appreciate their hard work. While some people may not have liked Bushnell, he did have a love for video games - Kassar, however, was a normal businessman, and didn't involve himself very much with the hard-workers below him.
In 1978, Warren Robinett released a game called
Adventure
, a ground-breaking video game for its' time for having complex graphic/gameplay mechanics with several different rooms and the ability to pick up objects to advance through the game. However, Adventure was best-known for having the first easter-egg, the message "Created by Warren Robinett". Robinett thought of it as a signature to put on his work, but putting his name on his game could have gotten him fired. He hid the easter egg extremely well and never let anyone from Atari knew. Easter eggs inspired future video games by having secrets players could find out, but the idea of putting a name on a video game was no longer going to be taboo.
At the time, software for video game consoles were published exclusively by the companies who made the consoles. That is, Atari was the only publisher for games on Atari consoles. If a software developer wanted to develop a game for a console, they had to be hired by the makers of that console. This method was rendered obsolete when four Atari programmers left Atari and joined up with Jim Levy, a former music industry executive, to found the company known as Activision. Activision began as a company in 1980 and almost immediately began developing games for the 2600, but Atari was extremely opposed to this. After all, no one had any business developing games for THEIR console other then themselves. Activision faced legal actions and a slew of lawsuits, but they ultimately prevailed. Atari developers left the company as soon as they saw Activision's success, as there was money waiting to be made for them. Imagic was the next big third-party software developing company, and more companies soon followed. Eventually, Atari did begin giving their respects to their developers, but it was too little too late, and Atari lost a lot of money in the end. Third-party video game developers would become commonplace in the industry afterward, and much of it was thanks to the first step made by Activision.
Activision later went on to buy the struggling Infocom, the company well-known for publishing the early text-based adventure games like Zork. After that, they became focused on developing other types of software, and changed the company name to Mediagenic. Throughout their history, they acquired a number of smaller third-party companies, and the company is still around today as a subsidiary of Vivendi, under the name
Activision Blizzard
.
Games
Activision's early Atari 2600 games were some of the best games made for the console, and possibly some of the best ever made. If you owned, or own an Atari 2600 console, chances are you have/had some of the games from Activision.
Boxing (1980)
by Bob Whitehead
While this may not be Activision's most popular game, it's a personal favorite of mine, and it is good. It's as you'd expect - you box the opponent, be it a computer or friend, and you win by scoring the higher number of punches. Its simplicity is the reason why the game is so fun. Playing with the Atari joystick will cramp your hand fast, but it's worth it.
Kaboom! (1981)
by Larry Kaplan
Kaboom! is considered one of Activision's key games for it's addictive gameplay. There's a mad bomber going around dropping bombs, and it's your mission to catch them using the paddle controller. The speed of which the mad bomber drops the bombs all over is insane, but it's addicting to play over and over again, even with the high difficulty.
Pitfall! (1982)
by David Crane
David Crane's Pitfall! was one of the first platformers ever made, became a major success at its' release, and is probably Activision's best-known title. You control Pitfall Harry by moving to the right, dodging logs, swinging across vines, and grabbing treasure along the way. There's a 20 minute time limit, but it doesn't hinder the experience.
River Raid (1982)
by Carol Shaw
This game is one of the first vertical shooters and is just as fun to play today. You control a fighter plane and shoot at various obstacles in the way, like tankers and jets. Occasionally you'll need to pick up some fuel as well. The game's excitement comes dodging everything while maintaining your speed as you go.
Pitfall II: Lost Caverns (1984)
by David Crane
Pitfall Harry is back in this excellent sequel with improved graphics, music (!), and gameplay. No more time limit, either. Pitfall II is a platformer on a much larger scale, with numerous paths and places to go. Pitfall II is possibly the best Atari 2600 game, since it offers an experience like no other 2600 game has.
Other good Activision titles:
Beamrider, Chopper Command, Crackpots, Enduro, Fishing Derby, Keystone Kapers, HERO, Ice Hockey, Pressure Cooker, Spider Fighter, Stampede
Reflection
Can you imagine there not being any third-party software developers for video games? Imagine no Capcom, no Konami, no Square-Enix - imagine if they all had to work as a part of, say, Nintendo - it just wouldn't work. Thankfully for Activision, this didn't happen. Also, it's kind of funny hearing that Atari sued Activision for making games on their system looking back at it. I can see why they did that, but imagine if Atari won - no third-party games ever, perhaps?
I'm sure that a group would have eventually come to make third-party games, but Activision was the first to do it. And yet, Activision is just one of the many chapters in the ever-growing history of video games.
Sources:
The Ultimate History of Video Games
by Steven L. Kent
Twitch Asylum Episode 2 Podcast
- Howard Scott-Warshaw interview
Gamasutra Playing Catch-Up
- Warren Robinett interview
originally written on 6-12-09
fun fact: I wasn't aware of Activision's increasingly bad reputation over the past year while writing this
also...how do I center images in bbcode