Hey, hey, hey fellow Destructoidians!
Just wanted to let you know about a special Halloween episode of
Doc Mock's Movie Mausoleum
taking place tonight with the one and only
Keith Apicary
of "
Talking Classics
" LIVE at 10pm PST / 1am EST!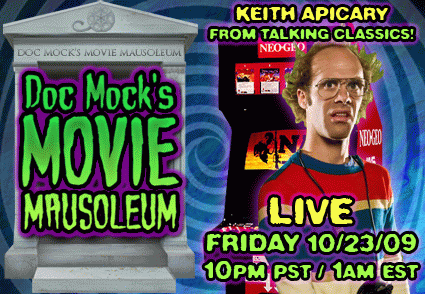 Not only will we be watching a ridiculous video game horror movie together, but you'll have
two solid hours to interact with myself and Keith LIVE on the air!
You can send in your questions and comments and we'll respond to them on the show while we're watching the movie. Plus, we have some additional surprises in store for you guys tonight along with information on a Halloween art contest we're holding, so I hope you can all check it out!
You can learn more about the show at:
http://www.docmock.com
And if you've never seen the show before, here's the intro video.
Hope to see you guys in the live chat room tonight!
-RoG-