We know where gaming hate ends. Cussing uncontrolably, controller-sized holes in walls, the gnashing of teeth and grunty scream of NOOO!/GRRR!/GWAH!, your friends' taunting, you sobbing over a glass of milk and your plate of Oreo double-stufs at home, muttering roughly about that last round of Puzzle Fighter when you had a diamond-red ready to drop on his 7 chain having, 80 counter gem dropping, candy-assed raszm-frazsm
UNHOLY SONUVA...
*ahem*
But where does it begin? Mine starts the same way it ends: with me.
More than fetch quests, prolonged level-grinding and 12 year-olds screaming "You like my balls in your mouth, huh? JIHAD! JIHAD!" over a COD4 live match, nothing brings the buring ball-o-hate in my gut more than my case of chronic
digitus fukituppus
, commonly known as stupid fingers.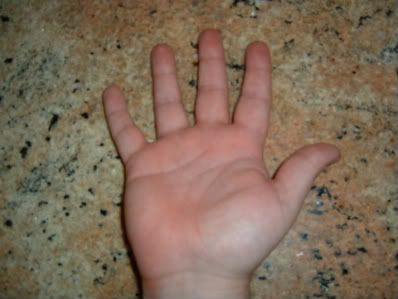 Button hand, left to right: Dum-Dum, Buffoon, th' Bird, Trigger and King Dolt.
The opening story, minus crying and overreacting, was me two weekends ago at a friend's gaming party. I've been gaming since I was four, 22 years now, and I wish I could tell you I'm a master at every thing I pick up. I'm not hopeless by any means, I can get through any console RPG you put in front of me and I can hold my own or maybe even win in a deathmatch. When it comes to fighters and music/rhythm games, it's FINGER GOES WHERE!?
Capcom vs. series, Guilty Gear, Rock Band, Guitar Hero, Puyo Pop Fever, Puzzle Fighter II, even PaRappa the Rappa. I love them to death, but any of those games get put in front of me and I'll be out of the rotation on the quick, grabbing sodas and asking if anyone else needs something from Don's Chinese. I have been beaten in every way possible. I have even, hand-to-God, been beaten at Dead or Alive by someone holding the controller upside-down,
turned away from the TV with a paper bag over their head
. All because I couldn't figure out how to pull off the the Shoryuken movement or press B, B, right+X, A at the right times during Christie's fighting movements. I couldn't look at a controller without sneering for weeks.
"Achievement" unlocked: Epic Fail
Rock Band and Guitar Hero. O damned sirens of my demise. I'm not completely lost here, I can get through the games on easy and medium and most of the easier half of the songs on Hard, but that's it. Don't get me started on YYZ, Bark at the Moon or that-which-shall-not-be-named (or played) by Dragonforce. Hammer-ons, the bane of my existence.
The sad thing, and the part that really gets my goat, is that sometimes I feel that I'm bringing down the rest of the group if I'm gaming with friends because Lefty and Righty didn't get the memo. Yeah, it's the calibration that's off, guys. Swear. No? Must be this controller then. What? My face is as red as a bottle of ketchup and you can see my pulse through my temples from across the room? You don't say. Can we play Advance Wars now?
Red-yellow-blue red-yellow-blue red-miss-miss red-miss-blue miss-red-miss green-miss-miss OH FUCK THIS NOISE.
So what's the solution, if there is one? Constant trips to the "practice" menu? Write a move list out? All I can say is a solution is needed all too badly. On the other hand, the dozen holes of an X-box controllers' profile in the wall could considered abstract art, right?
Dear Gaming Jeebus, Some of this, plz. Sincerely, Stoopidforce.