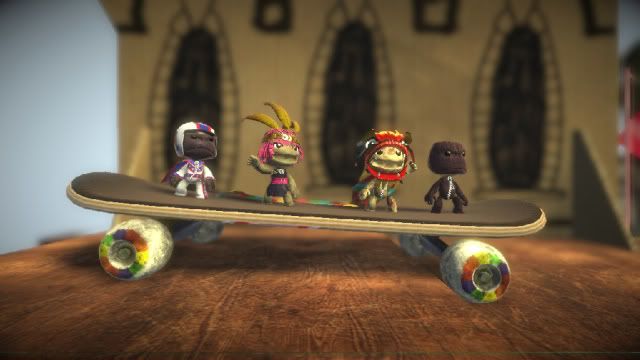 LittleBigPlanet is probably the most hyped first-time game in a while (and L4D). We all know the MGS4 or GTA IV hype had the previous games to build up hrust in it's name. Now, right off the bat I want to say that one of the reasons I bought LittleBigPlanet is that I really wanted to use my PS3 more often. I bought the MGS4 bundle back on launch day and after beating the game and being disappointed of MGO I let my PS3 to become a media center and I was looking for an exclusive that would really be worth it. I dived into LittleBigPlanet not knowing what to expect really. I saw a lot of the user created levels and previews and I was honestly pretty skeptical of it, what could a cutesy game like this offer to me, a person who has over 15 days on Call of Duty 4 online?
LittleBigPlanet starts with an awesome introduction which works as credits and also for the user to get used to the controls a bit. The announcer, English comedian Stephen Fry, has a perfect voice for the game and provides an amusing commentary on the game and mostly on the tutorials.The reason I'm talking about the announcer is that he really stood out to me since he's the first and only real voice you hear in the game other than some random song's lyrics. His voice set a great standard for the rest of the game and the game did not disappoint.
After that you get a couple of tutorial levels to get you to understand the platforming and physics and such. All very well done and once you start making levels you'll stand in awe in how they make some of the simplest objects with the limited resources they offer. The platforming is solid and the difficulty of the game is sometimes surprising. At first glance the game seems easy enough, simple platforming and objectives, and that hold true for most of the game; however, further into the game they make some really creative and elaborate systems that will assure you fun and a different type of game play.
This game's major appeal is a younger audience, and you can notice by how cheesy some of the "plot" is and specially the ending. I really can't criticize the game that much on that and the plot does a decent job holding together the platforming. One gripe with the childish tone would be that some levels might be simplified a bit in consequence of it. Another problem I have with it is more with the PS3's online and its generally voice-less chat. That is fine in some games, but in a game with some co-op elements in most stages, it gets annoying having to write out complex instructions or explanations to your teammate(s). I didn't have much of a problem since some of my friends I played with I connected to talk through my computer, but that's hardly ideal since the game should have a decent means of communication. I think the lack of standardized headsets (like the 360) will be a problem that the PS3 should deal with or if not will continue to be a problem in communication.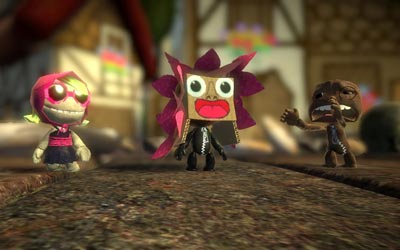 The level creation is excellent, but in my opinion, the tutorials could have been more helpful and more practical. Oftentimes when I'm building a level I'm kind of lost in what tool to use to emulate some level's functions and I sometimes wish I could browse some of the Media Molecule levels to understand how some creations worked. Which brings me to how impressed I am by most user levels, I was seriously expecting a lot of crappy levels, but most of them are pretty good and really creative. There are some people who made music with the levels with a combination of elements and it's very impressive the complexity of music that can be done.
The real fun in this game, however, is playing the games and having fun with your friends. At one point I played with a few friends for hours on end. Even though we were doing really bad I couldn't but have a child-like grin on my face and I was genuinely happy while I was kind of frustrated, and one of the greatest features in this game is the ability to slap people, as stupid as it sounds it's endless fun. You can often knock your buddies off a platform just for fun. After that you'll probably be chasing around and slapping each other to get revenge and it is hilarious and adorable. The cuteness of the sackboys just adds to how funny the slapping is. I only wish there was an out-of-the-box way to make levels with online friends, which is not yet possible and I hope they patch soon.
This game is going to set a standard for user-created content for this generation and is a ton of fun to play. LittleBigPlanet's story was somewhat short-lived the online content completely makes up for it and the great thing is that is will probably be constantly updated for the better part of the next year which is really great considering that people will be constantly be getting better at the levels they make. If you own a PS3 and have a decent connection and a few friends to play with this is probably some of the most innocent fun you'll have in a while.