"Revisitation Rights" is a segment dedicated to the discussion of remakes. In my eyes, a remake (unlike a reimagining) should literally "re-make" an idea that may have been previously flawed, or improve on what might have been lacking; in other words, it's more than just a simple update, or a fresh coat of shiny new graphics.
The first game I'd like to discuss, and feel could benefit from a good remake, is the 1997 horror/action title "Nightmare Creatures," developed for the Playstation, Nintendo 64, and PC by Activision and Kalisto.
"Nightmare Creatures" is a jolly romp through a gloomy 1800s London infested with cult-created monsters. Two characters were available, one a staff-wielding monk named Ignatius Blackward, the other an agile gymnast named Nadia Franciscus. The duo is out to stop mad scientist/cult leader Adam Crowley.
The game was a linear and basic romp through several dark levels, like the streets of London, and underground sewers. The level design essentially only gave players a single, limited path, putting an emphasis on combat, which in turn, keeps the player's Adrenaline meter filled.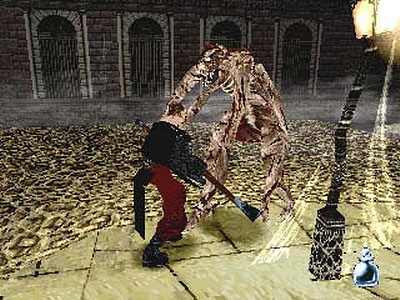 The ideas of the Adrenaline meter and seeking out monster encounters are decent enough, but I feel they were severely held back by a rigid control scheme, and a lacking combat system.
With the evolution we see today in 3rd person action titles, I feel like the world of Nightmare Creatures can better represented. I don't think that open-world would we the way to go, but I think the linear progression could be better implemented, in a similar fashion to games like Dead Space, or even Resident Evil 4 or 5. And while I may not feel that remakes should be simple graphical updates, I do think that "Nightmare Creatures" could certainly benefit by not being butt ugly, and it would definitely improve the atmosphere of the game.
I'm also a bit biased for two reasons. I love horror games, and I think the market could certainly use some more decently scary games. I don't think that any "Nightmare Creatures" reboot would really ever reach a level of psychological horror, but could still make for a fun horror/action title, a la "The Suffering" (more on that series later). My secondary bias is a simple nostalgia factor. I remember playing "Nightmare Creatures" as a child with my good friend, and we were terrified. I would love to see something that affected me like that in my childhood return, and bigger and better than ever.
Ah well, that's all I've really got to say for now. Anybody else feel like this could work, or am I simply pining for a refreshing serving of nostalgia?