Microsoft are the Darth Vader of console gaming. But that doesn't necessarily mean what you think it does. 
The last few years have been pretty terrible for the Xbox brand. Even before the cackhanded XBone reveal, the 360 had been struggling for a while from the perceived notion that it had changed tack from a gamer's console to a broken Kinect machine. The Xbox One has been fighting negative press since day one, and is getting roundly pounded by the PS4 in the sales race. It's still yet to outsell the Wii U after four months which, in some corners of the internet at least, is comparable to getting beat in the egg-and-spoon race by that one legged kid with multiple sclerosis. 
 And you know what? That's all fine. The Xbox One deserves every bit of bad press it gets after the monumental con-job Microsoft tried to pull on us last year. And Kinect had the lasting effect of taking the genuinely interesting area of motion/pointer controls, and turning it into one giant pile of waggle that no-one would ever take seriously again. 
 But for the last year now, there's another attitude that's become ever more pervasive in the gaming community, and it's one that makes me genuinely sad. The attitude of Microsoft the Great Pretender. Where Sony and Nintendo earned their right through generations of battle and blood to lay claim to the Console Throne, Microsoft are seen as the fakers, the ones who stayed in the race simply by throwing enough money everywhere. 
Sort of like this guy, but without his winning personality. 
The fact that the Xbox division has been a consistent money loser for Microsoft is often used as an argument that they made no real effort to stay in like the other two, and were content to simply throw out moneyhats and the occasional Halo game in order to keep in the running. Go on any forum or messageboard now, and you won't just see posters claiming that Microsoft should leave the console race, they never should have joined in the first place. 
Admittedly, gamers have always had a thing for fighting over which hardware makers deserve to win, but it seems like much more of an issue with Microsoft now. "Get thee gone from my house, and never darken my door again with thy foul presence!" seems to be the rallying cry of thousands of gamers everywhere. Which is genuinely upsetting. 
 Because believe it or not, there was a time when Microsoft didn't just make a decent attempt at being a console gaming company, they were the dream company of hardcore gamers everywhere. They walked the street with a spring in their step, because they knew they were so good. They were the swaggy daddy-cool pimpmaster of gaming. 
 To understand the tragedy of Microsoft, and how awesome they were back in the day, we need to rewind the clock back to the days of this beauty right here:
It's big, black, and I love it so much I want it inside me. 
The OG Xbox is the closest any company has ever come(possibly excepting the SNES) of taking a nerd's wet dream and turning it into silicon and electronics. This thing was the dream machine. It was pure gaming excess, the fantasies and hopes of millions of gamers taken and hammered into sleek, rugged, black perfection. 
Ok, the original Duke controller was a bit shit. But the OG Xbox is basically what happens when you get a bunch of hardcore gamers together, and give them access to Microsoft's unlimited bank account. This thing was meant as nothing more than the perfect hardcore gaming machine. Sony wanted the PS2 to be a sleeper-agent for the DVD format. Nintendo wanted the Gamecube to also double as a handy lunch container and designer accessory. The Xbox, however, was meant to be nothing more than the purest gaming machine available on the market. To understand just how overboard Microsoft went in creating the dream gaming monster, I'm going to have to hit you with just a bit of tech-porn. Bare with me here, because this isn't going to be kind to the competition:
 The specs between the PS2 and the Xbox? They weren't even comparable. The difference between the Xbox one and the PS4 is a mere trifle compared to the vast gulf that existed between the PS2 and Xbox. Microsoft looked at everything the PS2 had, and decided to double it at the bare minimum. Where the PS2 had 32mb of RAM, the Xbox had a whopping 64. Where the PS2 had a 295MHz CPU processor, the Xbox had a 733MHz beastie. Where the PS2 GPU ran at 148MHz, the Xbox ran at 233MHz. In every single tech aspect, Microsoft went above and beyond in utterly crushing the PS2s specs. The Gamecube fared better, with Nintendo using bespoke architecture to punch
way
 above the console's weight, but even then in most aspects, the Xbox still came out on top. 
 Quite simply, there was no piece of gaming kit outside of a super PC-rig able to beat the Xbox's specs. It was excessive in every possible way, like a Lamborghini made out of cocaine. But that turned out to the console's advantage. Because by going all out on tech, Microsoft were able to snag PC ports for the Xbox that the PS2 could only dream of. Morrowind? Doom 3? Half-Life 2? You'd never see those games on PS2, yet Microsoft's decision to go all out on hardware porn meant it got them all, and other console versions of otherwise PC-exclusives. 
 It wasn't just the pure power either. Microsoft were incredibly thoughtful, and made the thing really easy for developers to work with by using PC components. If that doesn't mean much to you, you have to realise that during the PS2 era, Krazy Ken was still in charge of Sony's hardware design. And as much as we all may love it, the PS2 was an absolutely horrible bit of kit for developers to work with. Many famously fell out with Sony over it. The entire reason, for instance, that Shinji Mikami tried to make the RE franchise Gamecube exclusive was because he utterly, utterly loathed the PS2's architecture. By comparison, the Xbox had all the familiarity of the PCs developers were already using to make games on, and it was powerful enough that anything they struggled with, they could just brute-force their way through. 
 You notice how both Sony and Microsoft made a big song-and-dance about using PC architecture to make development easier on Xbox One and PS4? And how even Nintendo is making efforts to move towards more standardised, easy-to-work-with PC-based hardware? That didn't start this gen. That started back when Microsoft released the first Xbox. It's just taken this long for everyone else to start catching up. 
 And it wasn't just in terms of raw power that Microsoft went above and beyond. The Xbox was the first console to come with its own hard-drive, an 8GB internal monster. Sure, that doesn't sound like a lot now, but at the time that was 8GB more than what Nintendo or Sony were offering. The OG Xbox is the sole reason our consoles come with hard-drives as standard now. If you've ever downloaded a game onto your console from PSN or Xbox Live, you have the OG Xbox to thank for that. Along with online mutliplayer too, actually. Yes, the Dreamcast was the first to really dabble in online, but Microsoft was the first console maker to nail multiplayer in the way we expect now: loads of servers hooked up together, creating an extensive network dedicated just to gaming. 
 Again, at the time, the competition were offering nothing. Xbox Live was an absolutely unprecedented development in console gaming, and while we may hate what it has become now, back then it was nothing less than revolutionary. It gave developers an entirely new way to support console games after they were released, and encouraged gamers to form clans, groups and entire communities around their favourite multiplayer games. 
 In every respect, the OG Xbox was a vision of the future. It had every last thing a gamer could require from their hardware, yet cost the same as a PS2. But here's the wonderful thing. As amazing as the specs were, as utterly lustworthy as all those processors and electrodes were, that was just the tip of the iceberg. It was the games that really cemented the Xbox as something special. 
 Hear me out: there was a time when Microsoft went out of their way to support their console with the best hardcore games they could find.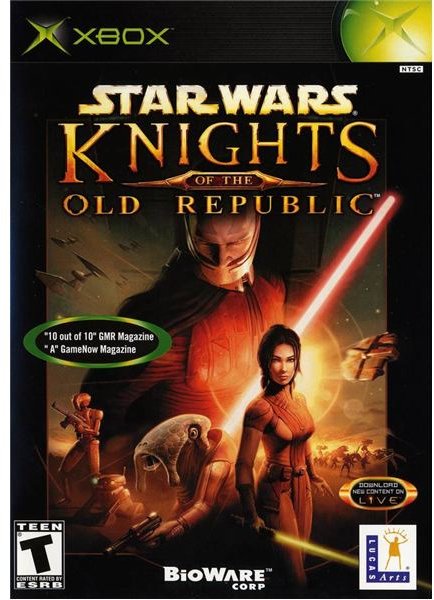 Those are some of the games everyone remembers for the OG Xbox. Jade Empire, Halo, Dead Or Alive, Fabel... we all remember those. What's even more incredible is how much effort Microsoft went into securing even the most niche, uber-hardcore games. The sort of games that would only appeal to the most niche of gamers.
 Did you know, for instance, that before making the Souls series, FROM Software made a pair of Xbox exclusive games under the Otogi name? Two games based around an undead Samurai assassin killing demons in a fairytale version of Japan, where boss battles took place over supernova stars and in the atmosphere of the planet. Where the Xbox specs and built-in hard drive meant that levels were completely destructible on a level no other hack-and-slash game has beaten to this day. Why yes, they are both every bit as awesome as they sound. No, they did not sell well at all. Yet they still found a place in the House of Xbox.
Or how about some Phantom Dust? A game where you collect cards to have magic battles in post apocalyptic arenas to remixed versions of classical pieces. 
If these games were any more hardcore, you could stick a band of silver round them and use them to propose to your partner. 
 There was a time when Microsoft didn't just moneyhat exclusive DLC for multiplatform games. There was a time when the Xbox was home to the sort of games for gamers that meant, well, if you called yourself a 'real' gamer, you simply had to own an Xbox. Sure, Halo was the killer app, but away from that there were so many other games worth playing that a gamer could literally thank Microsoft with tears in their eyes for bringing so much incredible gaming goodness. 
 The Xbox wasn't an expensive system, despite its tech. Microsoft made steps to ensure they matched the PS2 dollar for dollar at retail. It wasn't a PS3 level act of hubris, requiring gamers take up a second job just to pay for it. They made a console more powerful than God, then sold it at the same price as the competition, with a shitload of incredible games they made sure to support the system with. 
 So if you want to rail against Microsoft, and bemoan their direction with Xbox One, then fine, but don't criticise them for being a pretender. Don't act as if they never brought anything to the industry. If you want to criticise Microsoft and the Xbox brand, criticise it for not living up to the legacy of the original console, the console that went on to define how other consoles are made. Because as much as Microsoft may have fucked themselves over now, the real tragedy is that like Marlon Brando, they could have once been a contender. The Xbox may have never outsold the PS2, but the record breaking day one sales of games like Halo 2 and the overwhelming success of Xbox Live dealt Sony a blow that left them shaking, and that inspired them to go all-in on tech with the  PS3. 
 Microsoft are the Darth Vader of console gaming, because they were once its greatest champion. The original Xbox offered a vision of gaming which they have spent subsequent years turning their back on, and that's the real tragedy here. They may be evil now, but there's a reason the Xbox brand managed to eventually take off.