So, it's finally here. Having pre-ordered the DLC back in September, I've been (chain)chomping at the bit to get to try out the new Mario Kart DLC, and I have to say, it doesn't disappoint. Given how open Nintendo were about what you're getting with each pack, I was never too worried about not getting enough stuff for my money, but racing around the new tracks in all their colourful glory just reinforces what a bargain the DLC is. I haven't had a chance to try out all the new vehicles yet, mainly because I've fallen in love with the B-Dasher, and can't tear myself away from it to try anything else. Before today, I was sticking with the Silver Arrow as my main racing buggy, but the B-Dasher offers the same buttery handling I like with what seems like a major speed boost.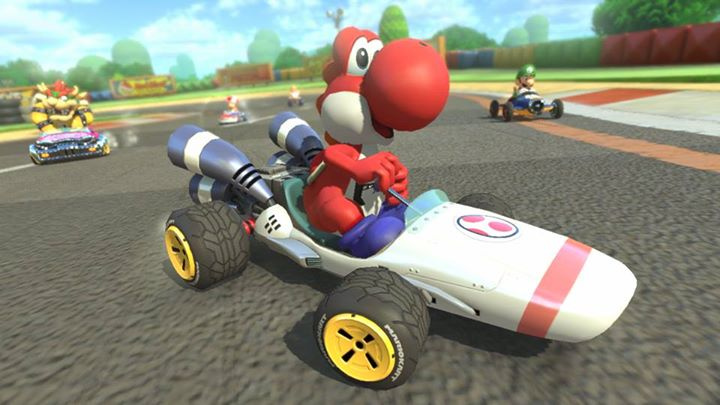 Also, it looks like a damn sexy portable pimpmobile.
Having only played the DLC for a couple of hours, I'm not in any position to give a conclusive opinion or review on the content, but I think I can certainly give my overall impressions thus far of the tracks and how they feel to play. Spoiler alert: it's all pretty damn good.
The first cup included in the pack is the Egg Cup, and this was the first cup I got tore into upon downloading the DLC. I'll list my thoughts on each track individually:
Yoshi Circuit: If I were to use one word: bendy! I never played a huge amount of Double Dash, so Yoshi Circuit isn't a track I'm particularly familiar with already, but I liked it a whole heap. As a racer who enjoys drifting and turning rather than straight-line racing, I really enjoy just how hard this track pushes you when it comes to corners. Anyone using a racer that's built more for top speeds accumulated over long straights may struggle here, but if you're like me and enjoy building up boost through long power-slide cornering, Yoshi Circuit is both challenging and a real hoot. I suspect that as I get more familiar with the track layout, drifts and turns will start to fall under my fingers' muscle memory, but for the time being it's great to have a twisty, turny track that I haven't already learned by heart.
Excitebike Arena: A relatively simple oval made clever by its random positioning of ramps, jumps, and what I can only assume are puddles of chocolate shit spurdled out onto the track. In complete contrast with Yoshi Circuit, there are no tricky corners to battle with here, so the challenge is in nailing all the jumps, clever use of items against your opponents, and being able to boost while avoiding the brown poo smeared everywhere. While I haven't had a chance to test this yet, I suspect that the simple oval layout and wide lanes might also *shock horror* make this a decent track for Battle Mode. It's a shame we didn't get any dedicated arenas in the DLC, but if push comes to shove, Excitebike Arena might be the best track to use for a bit of al-fresco balloon popping.
Dragon Driftway: The second best track in this cup. Like Yoshi Circuit, it's super bendy and full of large curves, but this is the first track in the DLC to make real use of the anti-gravity mechanic, and it does so better than arguably better than any other track in the game thus far. Where the anti-gravity sections in other tracks can often feel understated in their use, with little to differentiate them visually from regular sections, Dragon Driftway uses the mechanic to create a genuine roller-coaster of a course, with each corner seemingly bringing a new change in gravitational positioning. It's a bastard hard circuit, as the track often doesn't leave you a lot of room to maneuver around or past your opponents, but it's also incredibly rewarding to nail its corners while seemingly racing through every spatial position known to man. The anti-gravity mechanic was always a fantastic idea that was perhaps slightly underused in the vanilla game, and Dragon Driftway really shows what can be done with it when EAD go crazy. It also helps that the tracks is visually amazing, full of colour and texture and a wonderful sense of location. Superb stuff.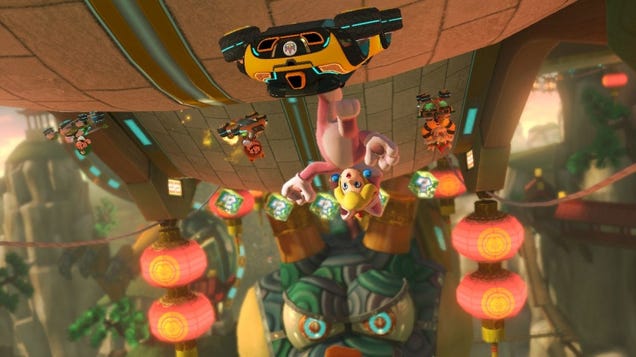 Mute City: Ever since this track was revealed, there was always the worrying possibility that it could never be quite as good as the army of frothing F-Zero fans would want it to be. Thankfully, Mute City is a belter of a race track, and the best circuit in the Egg Cup. It not only has a fantastic layout that echoes F-Zero's mix of speed and lightning-sharp turns, it also uses F-Zero mechanics to add something different to the core Mario Kart gameplay. Driving over energy strips raises your coin count in much the same way as F-Zero's boost power, thereby increasing your top speed. The track is also generously littered with boost-pads, meaning it's very easy to reach a blistering top speed (at least by MK standards). The music is pure powermetal fanservice, and visually the entire package looks incredible. It genuinely makes me salivate at the thought of an in-house developed F-Zero game from EAD. The one nitpick I would make with this track is that it doesn't make any use of the franchise's tubular track design. Given that Mario Kart now has anti-gravity, I was hoping that the Mute City circuit would make use of the 360-degree designs that F-Zero is known for, where racers speed along walls and ceilings of high speed tunnels. Sadly, however, even though the circuit makes great use of anti-gravity, the track itself remains a flat plane. It doesn't detract at all from the game's enjoyment, but it does feel like a slight missed creative opportunity. Despite that, the track itself is blisteringly paced, visually amazing and the standout highlight of the DLC.
The second cup is the Hyrule Cup, containing the anticipated Legend of Zelda track. I think it's a slightly lesser collection of tracks than the Egg Cup, but it still has many highlights of its own, as I shall explain.
Wario's Gold Mine: The first time I tried this track, I continually fell off the side. This is a circuit filled with right angles and largely devoid of barriers, so careless boosting is liable to send you flying into the depths of a canyon or mineshaft. Once I tried it a second time with a car more suited to my style, I found it to be a very enjoyable track. The sudden drops provide moments of real accelaration, and the lack of barriers make battles with other racers feel just that little bit more dangerous. Lightweight characters are possibly at a disadvantage here, so if you're not rocking a havy character like Bowser, make sure to give yourself plenty of breathing room. This track seems to be stuffed full of shortcuts that reward braver racers, but as of yet I haven't succesfully made use of all of them.
Rainbow Road SNES: the third Rainbow Road to be added to the game. I go against many other MK fans in thinking MK8's Rainbow Road to be far-and-away the best iteration, so personally I don't feel the SNES version is particularly notweworthy in comparison, but it's still a fun track. It's entirely flat and devoid of anti-gravity sections, and rewards racers who know how to boost around corners without falling off into space. The Thwomps add a certain level of challenge to certain portions of the track, but otherwise it mainly comes down to how well you can take the corners and keep up with other racers. A lot of fun, but certainly my least favourite of the three RAinbow Roads in this game.
Ice Ice Outpost: A lot of people seem to think this is the weakest track in the pack, but I disagree. Ice Ice Outpost essentially takes the dual-track segments of circuits like Electrodome and Bowser's Castle, and builds an entire course around the idea. Every time I've played it online, the narrow courses and interweaving layout have resulted in hugely competitive (and often downright brutal) races, as everyone is constantly looking to find the best line to take across the two tracks. Taking one track may lead you round the inside of one corner, but sticking to it may leave you on the outside of another, so it's all about trying to find the best points to jump from one to the other in order to create the fastest route. Speed boosters are also placed at various points on each track, as are interconnected shortcuts, so this is one which really needs careful planning on order to make the most of. There's also not a lot of room to avoid obstacles, so I think this is a track that higher-level players will find more rewarding, as it requires a good mastery of the game's base mechanics and a willingness to utterly dick over other players without mercy.
Hyrule Circuit: Nintendo was clearly onto something when they decided to stick non-Mario franchises into Mario Kart, as Hyrule Circut is easily the highlight of this cup, just as Mute City is for the Egg Cup. There's a good balance of curves and straights, and the course offers a beautiful depiction of Link's home world. It's also worth noting that this track and this track alone replaces coins with rupees, a nice little touch that really shows how much attention to small details EAD put into this package. Similarly, the Pirahna Plants from other tracks are replaced here with Deku Baba plants that will reach out and bite any racer who gets too near them. The track looks wonderful, offers a nice challenge, and even has a mini-puzzle to solve inside the castle (which I won't spoil here). If I could make one small complaint, it's that after having played Hyrule Warriors and browsed the eShop during its weeks-long Zelda spree, I'm getting just a tad bored with the standard arrangement of the Zelda theme that also plays here. While it's definitely an iconic theme, the Zelda franchise has dozens of beloved tunes, and even a reinterpretation of the main theme a la Wind Waker would have been greatly appreciated over the vanilla Zelda theme that plays over this track. A big-band interpretation of Gerudo Valley maybe? A rocking version of Zelda's Lullaby? Here's to hoping that for Zelda Wii U, Nintendo takes the main theme in a new direction, as I think the standard version has reached peak exposure.
So a few minor quibbles here and there, but all in all the new circuits represent a fantastic addition to the game, and each one is well worth playing.
A quick note on the new vehicles: while I haven't yet experiments too much beyond the B-Dasher, I did take the time to race Link on the Master Cycle, complete with Zelda-themed wheel and glider. How much you enjoy it depends, I think, on your general feeling towards bikes in the game. As someone who prefers being able to push or pull my drifts as much or as little as I like, I'm not a fan of how bikes tend to drift sharply inwards on corners, and that is very much on display with the Master Cycle. If you like vehicles that can turn on a dime like the Lightcycles from Tron, I imagine that it'll be a great new addition, but for someone like me who prefers things a little looser, the B-Dasher is a much more welcome (and stylish) addition.
Also a quick update note: with the addition of the DLC, Nintendo also seem to have rolled out a new patch that rejigs the item balancing a little. The Bullet Bill power up seems to be a little more frequent, and almost unquestionably faster than before. While that may annoy pro-level racers who think it's too much of a crutch, it certainly makes things a little easier for racers who continually find themselves at the back. Similarly, shells seem to be more commonly handed out, and my races online this evening were punctuated much more frequently with the beeping and slamming of red shells into my kart. In fact I had no less than three races where a wayward shell at the finish line sent me from 2nd or 3rd down to 5th or 6th. Obviously this is a double edged sword, as while a higher frequency means shells can be thrown more, you can still hold them behind you to shield yourself from others' attacks, so hopefully this won't affect the balance too much.
So, all in all, what are my impressions? A thoroughly complete package, and a glowing recommendation for anyone who already has the game. This is the sort of DLC that should be encouraged among developers, and Nintendo have really set the standard when it comes to what can be offered as post-release content for a racing game. I can already tell that a number of these tracks are going to be among my favourites in MK8, and for a game that already had 32 tracks, that's pretty damn impressive. Here in the UK, you can get both DLC packs for £11.99, and considering that you get almost half a game's worth of content that is frankly mind-bogglingly good value. If you have any intention of racing other Wii U owners online, I would thoroughly recommend picking up the DLC and treating yourself to some new tracks, and with the precedent set here, I can't wait for the next pack to roll around.